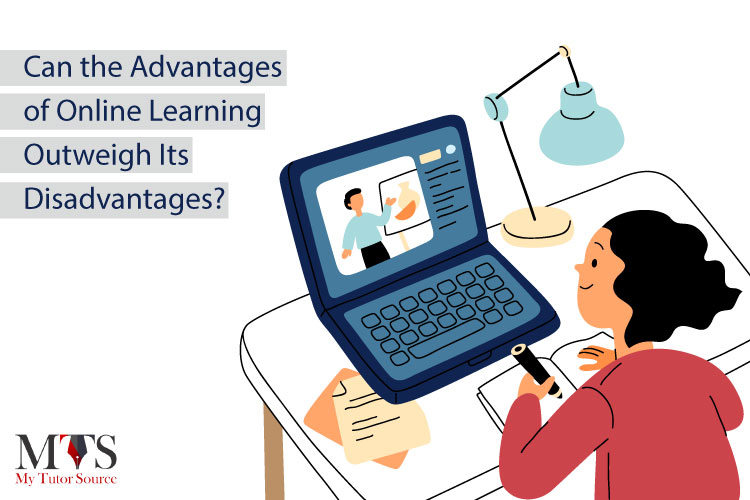 One of the most commonly used words ever since the covid-19 pandemic has come into our life is "the new normal." The new normal can be found in all aspects of our lives. For those who used to spend all their time partying and going out with their friends, the new normal is to stay indoors and not meet anyone because of the fear of getting the virus. For people who used to go to offices to work, the new normal is to stay at home and work and attend meetings via Zoom, Google Meet, Slack, or Microsoft Teams, etc.
Just like that, education has its own new normal as well. Because of the onset of the pandemic, the education sector has seen a significant increase in the use of online learning tools and the introduction of new, innovative ways of learning. With the need of distance education rising all over the world, educational institutes have started to come up with their own ways of continuing the educational process for their students. In fact, every English Tutor Online in Dubai is also using digital tools to ensure the highest quality of education despite the ongoing pandemic. As a result, digital learning has become an instrumental part of schools and students. In other words, online learning is the new normal. But what is online learning? Online learning involves teachers and students interacting with each other from the comfort of their homes to cover their syllabus and do their assessments. Besides, it is not just restricted to academics anymore, but it takes care of the extracurricular activities now, as well.
As with all teaching methods, online learning has its own pros and cons. Let's see if the advantages of online learning outweigh the disadvantages of distance learning:
Advantages of Online Learning
1. Efficiency
Online learning has made it efficient for teachers to teach their students effectively. They can choose from an array of tools, including podcasts, videos, PDFs, infographics, and others to make their lessons more interactive. Online learning has provided teachers with the opportunity to extend the lesson plan beyond the traditional textbooks. They can now use online resources to become more efficient educators.
2. Convenience
The sheer convenience factor of online classes is one of its most obvious advantages. Many teachers often feel extremely tired after going through a long commute every day and the thought of going to another location seems like a burden. This is especially true for the home tutors.
Virtual learning has made teaching convenient for teachers and learning for learners. Now an English Tutor Online in Dubai can teach you while you are at home in your comfy pajamas. In other words, you can multitask. All you need is a computer (even a smartphone will do) and a stable internet connection.
3. Accessibility of Time and Place
Another great benefit of distance learning is that it allows learners to attend their lessons from any location they want. Plus, this enables institutes to reach out to a wider and more diverse range of students. Schools and teachers are no longer limited by geographical boundaries.
Moreover, students can archive, record, and share online lectures. So, they can access the lessons and learning materials at a time slot that suits them the most. Therefore, distance learning allows students to enjoy the accessibility of time and location in education.
4. Fosters More Interaction
People often assume that teaching in a physical setting is a better way to interact. But it is not entirely true. During an online class, no student gets the back row and everyone is in the front row. Students who are normally too shy to raise their hand to ask a question in a physical setting can ask their questions easily in a private chat.
In addition, teachers can now administer online quizzes to make sure that the students remain engaged during class. They can edit videos for better learning. Now teachers can write down the lecture on a digital whiteboard and students can download those notes after the class.
5. Affordability
Another great advantage of online learning is the affordability factor. Distance learning has reduced financial costs and is far more inexpensive than physical learning. The reason for this reduction in expenses is that distance learning eliminates the cost of meals, real estate, transportation, and clothes, etc. Another plus point is the availability of all the study materials and courses online that creates a paperless learning environment for the students. It is not only more affordable but it is also good for the environment.
6. Unlocks More and Better Learning Opportunities
Have you ever wanted to learn a new language but it was never available? Or maybe you wanted to learn Italian or Spanish but you could not access the right study materials? Or maybe the small time slot that you had managed to take out of your busy schedule just so you could learn the basics of graphic designing did not coincide with the study hours that an institute in your local community offered.
Virtual learning gets rid of all those problems. With online classes, the sky's the limit when it comes to learning opportunities. You can find an instructor in any time zone because people are available to teach from all over the world residing in every possible time zone. So, you can have a class at potentially any time of day.
7. Better Student Attendance Rate
Since distance learning is free of the restraints of time and place, students can adjust their schedules accordingly. With the freedom of choice in terms of location and time slots, fewer students miss out on their classes.
8. Suits All Learning Styles
Every student has his/her own style of learning. Some students prefer audio while some like visuals. Just like that, some students prefer classrooms while others like to study solo.
The online learning system offers a diverse array of resources and options to personalize lessons according to every student's learning style. Distance learning is the best way to come up with a learning environment that caters to the needs of every student.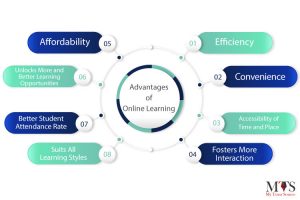 Disadvantages of Distance Learning
1. Inability to Focus Because of Screens
Many students face the problem of having to focus on a screen for long periods of time because it gets boring very quickly. Plus, when learning online, students have many opportunities to distract themselves with social media platforms and other sites.
Thus, it is extremely important for teachers during online classes to keep the environment engaging, interactive, and crisp to help students maintain their focus during their lessons.
2. Technology Issues
It is understandable that not everyone is equally good at using technology. This is another one of the challenges of online learning. Some people struggle with internet connectivity. Even though the internet has grown leaps and bounds and has penetrated almost everywhere in the past few years, smaller towns and cities still do not have a stable connection and good internet speed.
This poses a hurdle in the development of an internet connection between the teachers and the students. Technology issues are detrimental to the education process.
3. Distance Learning Requires Self-Discipline
If we take a look back at the good old days when students and teachers used to interact with each other in a physical educational environment, we can notice that accountability was a big part of that environment. It was vital for teachers to maintain discipline in their lectures to make the students behave. If students feel that they are not getting the proper guidance and the teachers are not interacting with them well enough, they start losing any sense of self-discipline in order to fully immerse themselves in their lessons for the best learning experience.
Now, if we look at the current scenario AKA online classes, accountability and discipline are nowhere to be seen. Moving to virtual classes instead of real-time classes requires a far greater sense of accountability and self-discipline on the students' behalf. They have to discipline themselves and stay engaged in the lesson.
In such cases, teachers should arrange fun activities and live quizzes to assess their students' understanding in real-time and keep them engaged. They can also make use of breakout rooms to encourage group activities. These kinds of interactive tools not only keep the students engaged but also foster accountability.
4. Sense of Isolation
Students flourish the most when they are in the company of their fellow students. In distance learning, students don't get to interact with each other. This often causes a sense of isolation to develop in the students. In such cases, it is important for the teachers and institutes to let the students use other forms of communication to interact with each other. They can use emails, video conferences, and online messages to have face-to-face interactions.
5. Manage Screen Time
As students are required to study via screens, many parents have shown their concern regarding the hazards of their kids staring at screens for hours on end. This increase in screen time is one of the worst disadvantages of distance learning.
A good solution to this is to let students take breaks to refresh themselves.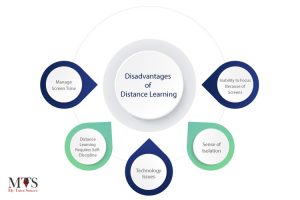 Summing It Up
There are disadvantages and advantages of online learning for students but with the advancements in technology, the disadvantages of distance learning are also being addressed. It is safe to say that the advantages of online learning are starting to drown out the cons.