Our children are the future, and they should be developed adequately. And the very first step that contributes immensely to this development is their school years. It is the responsibility of parents to study different aspects of the school to see if the institute is good enough for their kid's physical, mental, and academic growth. There is a long list of top schools in Dubai, but today our team has decided to give you a detailed review of Grammar School Dubai. So, if you are planning to send your child to Grammar School Dubai, read this blog till the very end. We have written down the complete details of this school, like its curriculum, fee structure, student body, and much more. And if you want to know how school differs in Dubai, stick around because we have made a table of comparison of Grammar School Dubai with other top schools in Dubai.
Overview of the school
Grammar School Dubai is one of the oldest schools of Dubai, established in 1970. This school has been providing a high quality of education to its pupils for more than 40 years. As it is a part of Athena Education group of schools too, this claims that Grammar School Dubai serves what it shows. The school follows innovative and inspirational teaching methods and strategies. Moreover, the school has a strong bonding with its students and their parents.The student body of Grammar School Dubai consists of all the nationalities like Indian, Pakistani, and other foreign countries. This school follows a complete dress code from FS 1 to Year 11. Its website has a uniform section where you can see the uniform photos. They have also given a uniform order form, and you can easily download the form, fill it and then follow the other steps mentioned to get your kid's uniform.
Nikke Alley, the principal of Grammar School Dubai, relishes the responsibility and the opportunities this school offers within affordable fee rates and all the other academic and non-academic activities. Furthermore, V.N.P. Raj, the executive chairman and the founder of Athena Education, believes in teaching the children to be resilient as risks are the way to success and innovation. He is an ambitious person with 30 years of experience, working hard to bring impactful changes, resources, and innovation in Grammar School to build creative, innovative, confident, highly intellectual, and responsible beings.
Related Read:
Curriculum of grammar school dubai
The school follows a well-planned and high-quality British curriculum. It has a set of curriculum designed for foundation stages FS2 to Stage 5. Grammar School works hard to follow the EYFS curriculum, and these structured indoor, outdoor, and learning activities keep the students engaged. The website of this school has all the details of the curriculum and strategies followed by the institute.
For the early years of education, teachers are trained to work on a child's development and base more. Teachers of Music, Language, and Physical Education work alongside the class teacher, and they all follow the Early Years Foundation Stage Framework (EYFS), play-based and multi-sensory curriculum. Their main focus is on the Literacy, Communication, Language, Mathematics, World Understanding, Expressive Arts and Design, Social, Physical, Emotional, and Personal development of each child under 5 years of age.
In year 1 and year 2 of education, Grammar School Dubai follows the primary curriculum. The students of Key Stage 1 are from age 5 to 7 years. Their teachers are highly professional, dedicated, and have a strong knowledge of Computer, Physical Education, Arabic, French, and Music, among other academic subjects. In these years of education, the school believes in creating an innovative learning environment filled with formal activities that bring out the best in students.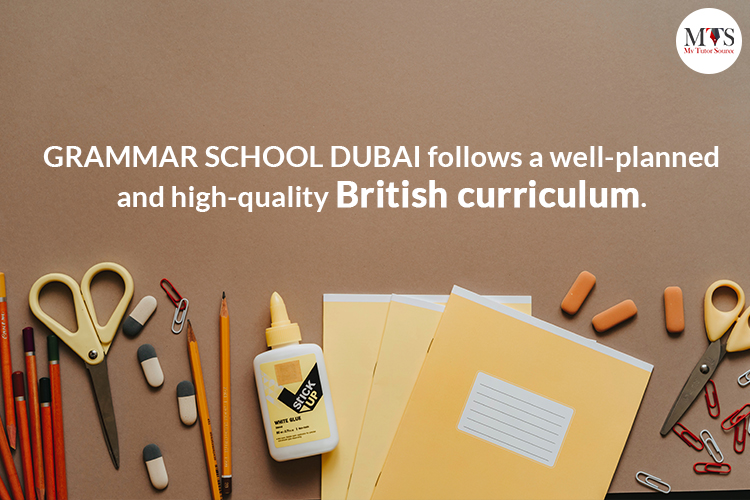 Moving to Key Stage 2, it is a four-year learning plan from year 3 to year 6, and the students aged between 7 to 11 years can be a part of it. Along with academic achievements, the students are prepared for showing and excelling their skills in Arts, Sports, and Music. Schools arrange educational trips, school-wide performances, and competitions for the students of Key Stage 2 to turn them into skilled and confident beings. Moreover, the subjects taught in these years of education indicate the intellectual growth of students.
In Key Stage 3, students from year 7 to year 9 have to study compulsory subjects; English, MoE Arabic, Mathematics, Islamic Studies, and other subjects. Grammar School ensures that students have proper knowledge of subjects via learning and exams in these years. This learning process will help them in making future education choices.
In Key Stage 4, year 10 and year 11 are prepared for their IGCSE exams. The school offers a set of examination subjects from which students are free to pursue six subjects. However, other than those subjects, Mathematics, MoE Arabic, English, and Islamic Studies are compulsory subjects.
Lastly, in Key Stage 5, the year 12 and year 13 students are prepared for their GCE examinations under the supervision of highly professional and experienced teachers. Grammar school, Dubai, teaches the subject in AS and A-Level that are renowned and accepted worldwide.
Facilities at grammar school Dubai
The school has mentioned many opportunities and the extracurricular activities aligned for its students during lunchtime and after school, respectively, on their website. But the detailed information on this is minimal, and some basic resources and facilities are found inadequate.
Grammar School Dubai provides transportation facilities to students who live within certain routes, and their monthly fees vary. You can get all the details of busses routes and their one-way or two-way fees from their website.
Fee structure of grammar school Dubai
Grammar School Dubai fees are divided into two types; optional and mandatory. Health and wellbeing support, external exams, and ICT fees are mandatory, along with the tuition fee, and the total amount is mentioned below. You can review the charges of optional fees, particulars, and amounts on their website.
List of Mandatory Fees ( 2021 – 2022)
School Grades
ICT Fee
Health and Wellbeing Support
External exams
Tuition Fees
FS2
AED 150
AED 100
AED 20
AED 4,733
Year 1
AED 150
AED 100
AED 440
AED 4,733
Year 2
AED 150
AED 100
AED 50
AED 4,733
Year 3
AED 150
AED 100
AED 140
AED 4,733
Year 4
AED 150
AED 100
AED 185
AED 4,733
Year 5
AED 150
AED 100
AED 185
AED 5,325
Year 6
AED 150
AED 100
AED 185
AED 5,325
Year 7
AED 150
AED 100
AED 185
AED 5,325
Year 8
AED 150
AED 100
AED 185
AED 5,325
Year 9
AED 150
AED 100
AED 185
AED 6,509
Year 10
AED 150
AED 100
AED 290
AED 6,509
Year 11
AED 150
AED 100
AED 65
AED 6,509
Year 12
AED 150
AED 100
AED 65
AED 6,509
Parent's review
Parents review the school based on their child's personal growth and how its environment, academic and non-academic activities have shaped their son or daughter. And after collecting reviews of parents, we have concluded that parents have ranked the Grammar School Dubai among the top schools in Dubai. You can also read parent's testimonials on their site. Parents of students studying A-levels or GCSE are found more satisfied with the teachers and their methods. The medical facility provided by the school is reviewed great by them because it has the experience and highly qualified in-house doctors and nurses available during school hours. The school has a parent portal too, and it has lessened the stress of working parents because they can stay updated on what's happening in the school via portal access. And they give all the credit to its competent teachers and management staff.
Grammar school Dubai vs. Other schools in Dubai
As told above, in this section, we have a table of comparisons among Grammar School Dubai vs. other top schools in Dubai to let you know how school differs and what you should consider while looking for a school in your area.
| | | | |
| --- | --- | --- | --- |
| Parameters | Grammar School Dubai | GEMS Royal Dubai School | Deira International School |
| Grades | FS 2 to Year 13 | FS 1 to Year 6 | FS 1 to Year 13 |
| School Type | International | International | International |
| Curriculum | A Level, UK National Curriculum, IGCSE, AS Level | UK National Curriculum, EYFS | GCSE, IB, UK National Curriculum, IB DP, IGCSE, IB CP, EYFS, BTEC, IBDP Courses |
| Student Body | Co-Education | Co-Education | Co-Education |
| Annual Fees | AED 4,733 – 6,509 | AED 38,331 – 48,331 | AED 39,938 – 80,465 |
| Principal Name | Ms. Nikke Alley | Mrs. Vicky Martin | Mr. Simon O'Connor |
Grammar school Dubai contact details
| | |
| --- | --- |
| Phone No: | +97142824822 |
| Email: | info@grammarschool.ae |
| Address: | Opp. Dubai Festival City, Al Garhoud School Area,P.O. Box 11230, Dubai U.A.E |
| Website: | https://www.grammarschool.ae/en |
Conclusion
Grammar School Dubai is one of the best schools in Dubai. Suppose you are looking for a high quality of education at affordable prices, then it is a good choice. We have added the comparison table to acknowledge you all about the other choices you can make. You can visit its site for detailed information and if you want to read more reviews with the school details, feel free to head to our other review blogs.