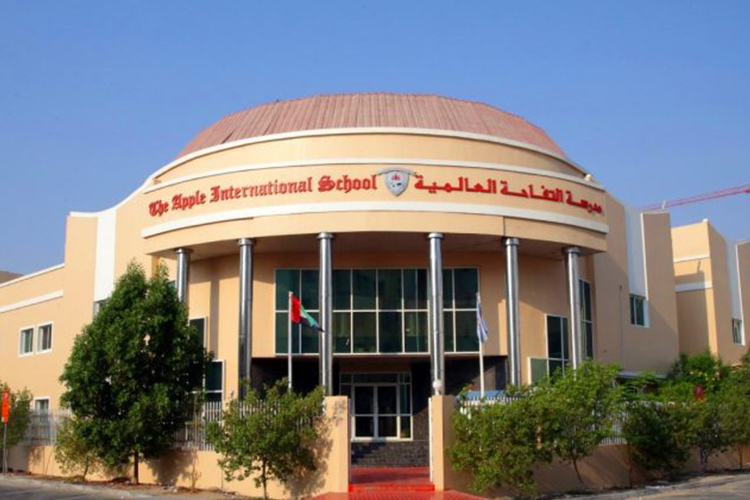 Seeking the best school in Dubai with affordable fees, a broad and enriched curriculum? Apple International School (AIS) offers it all!
We understand the struggle of finding a school that meets your expectations, a child's academic needs, growth, a better future, and provides a nurturing learning environment. Here we are with another review-based blog of an inclusive school for you. So, whether you are looking for a school for your 3-year-old or want your child to shift, stick around and discover everything you need to know about Apple International School before filling the admission forms.
About school
Apple International School has been welcoming students from all cultural and ability backgrounds since 1994. Their objective is to teach and prepare students for life, not for school only. The school ensures that students learn and experience challenging activities and make the most. One thing that clicks us is that this school doesn't discriminate against anyone on any basis, and the school team makes sure that everyone is emotionally and physically safe there. Over and above, Apple International School has a dedicated team of specialists who support students and teachers in identifying special educational needs and encourage them to take creative actions and accept the difference that makes them unique.
Furthermore, excellence, empathy, resilience, global mindedness, and empathy are their core values. They empower their students to be self-aware, emotionally intelligent and empathetic, grounded individuals, global citizens, life-long learners and have strong basics that will help them in the future. Apple International School's vision, mission, philosophy, and foundation make it one of Dubai's top O Level Schools.
Curriculum Type
To help the students of early age discover their strengths and experience a huge range of educational opportunities through well-planned programs of cultural, sporting, extra-curricular and social activities, Apple International School has classified the classes into three stages. They are called stages to life: Foundation Stage, Primary School, and Middle School. AIS follows different curriculums at all stages such as,
Early Years Foundation Stage (EYFS) curriculum in Foundation Stage
Cambridge Primary Program (CPP) in Years 1 to 6
UK National Curriculum in Years 7 to 11
Here is a brief overview of the curriculum sets they follow:
EYFS is a UK-based framework designed for children from birth to 5 years old to learn through first-hand experience and structured play activities.
CPP focuses on developing skills with subjects. Only nine schools in the UAE offer Cambridge Primary curriculum program, and AIS is one of them.
The subjects of the National Curriculum are taught to upper-class students and carefully monitored through examinations and assessments.
Apart from academics, we believe they develop students' numeracy, literacy, and leadership skills. The Apple International School Dubai designed curriculum keeping in mind the multicultural mix of the student community, aims to ensure excellence, individual learning needs, and develop skill sets that enable everyone to succeed in an ever-changing world.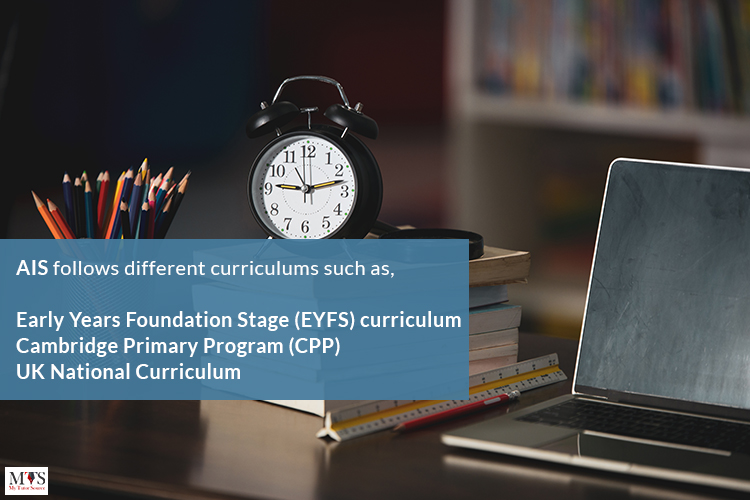 Facilities
The school provides a range of facilities to students to develop and polish their skills, such as:
Science Laboratory & ICT Lab
The school provides students with ICT and a science laboratory to achieve holistic and practical learning. Teachers and school staff constantly monitor the students and track their progress.
Library
The Apple International School library is not just piled up with books. They have a collection of audio, videos, CDs, maps, newspapers, DVDs, atlas, magazines, E-books, and more than 10,000 books. The students are encouraged to spend time in the library and form a reading habit because libraries positively impact students' achievement and overall progress in school.
Free Flow Area
It is the most favorite spot of AIS tiny tots! Here Foundation Stage students can play with others and improve their communication and social abilities, competence and confidence.
Outstanding Learning Area
AIS believes that outdoor play is the most important aspect of their student's development, growth, and active lifestyle. Many students show greater motivation, involvement, and enthusiasm while learning new skills in an outdoor environment; that's why they have different areas outside such as water play, motor skill development area, sand play, music discovery area, jungle gym, and school garden. All areas provide rich opportunities for Foundation Stage students to have freedom and movement, learn with physical activities, and promote well-being.
Visual and Performing Arts
AIS believes that dance, music, drama, and art allow the students to explore, observe, experiment, understand, express themselves, and interact with others. The school allows exploring different musical concepts and experience singing, playing, combining, composing, and creating music.
Medical Care
AIS keeps the record of students' health by regular medical check-ups, physical examinations, and immunization programs. They have four people full-time in the school clinic: three nurses and a doctor. In case of emergency or serious health issues, they inform the parents.
Canteen
They provide a nutritious diet: delicious snacks and meals to all students, and the food menu of Apple International School is approved by the DHA. Moreover, a menu is updated and provided to parents monthly. A healthy diet is essential for good learning that's why they have certified suppliers and a school canteen.
Distance E-Learning
School provides an online portal facility for distant learning purposes. They have made everything smooth and easily accessible.
Moreover, the school also offers after-school enrichment programs that students can join by their choice.
Admission overview
AIS always announces the registration dates on their website. All you have to do is fill up the Online Student Enquiry & Registration form and follow the rest of the steps for completing the admission process. Visit their official website to know the admission requirements and process.
Fee Structure of Apple International School Dubai
AIS is known for its affordable fees for all levels or grades. Have a look at their current tuition fee structure and decide on your own.
AIS Dubai – Fee Structure
| | | |
| --- | --- | --- |
| Grades | Discounted Tuition Fee (AED) | Total Tuition Fee (AED) |
| FS1 | 6465 | 8,030.75 |
| FS2 | 6698 | 8,463.75 |
| 1 | 7580 | 10,045.75 |
| 2 | 7580 | 10,045.75 |
| 3 | 7580 | 10,070.75 |
| 4 | 7580 | 10,070.75 |
| 5 | 8698 | 11,188.75 |
| 6 | 9623 | 12,338.75 |
| 7 | 10394 | 12,884.75 |
| 8 | 12301 | 14,791.75 |
| 9 | 12263 | 16,103.75 |
| 10 | 13779 | 17,469.75 |
| 11 | 15300 | 18,565.75 |
| 12 | 16400 | 19,865.75 |
Note that tuition fees can change anytime by KHDA approval. Below is the table of other mandatory fees of the school:
| | |
| --- | --- |
| Registration Fee | AED 500 per child |
| Admission Fee | AED 500 per child |
| Activity Fee | AED 600 |
| E-Learning | AED 250 |
| Stationery | AED 300 (FS only) |
| Medical Fee | AED 250 |
| Computer Fee | AED 500 |
| Resource Fee | AED 200 (Year 1 – Year 10) |
| School ID card | AED 15.75 |
| Apps and Cyber Security | AED 200 (FS2) |
| Apps and Cyber Security | AED 300 (Year 1 – 10) |
| Lab Fee | AED 1050 (Year 9 – 10)AED 1350 (Year 12) |
| IBT/External Exam Fees | AED 150 (FS)AED 350 (Year1 – Year 2)AED 375 (Year 3 – Year 5)AED 600 (Year 6)AED 375 Year 7 – Year 8)AED 675 (Year 9)AED 525 (Year 10)AED 100 (Year 11) |
Transport System
Along with many great facilities, the Apple International School also provides a transport facility to the school and home. They have partnered with Gulf Pinnacle Transport LLC for transport services because they provide comfortable, safe, and reliable transportation. Parents can keep track of their children's routes and pay charges via credit cards at the GPT counter in school.
The transportation system of school offers:
GPS Tracking Facility
Video Surveillance System
Preventive Maintenance
Electronic Attendance and Mobile App
Certified and Responsible Drivers
Female Bus Attendants
Here are the bus routes and fee structure of the AIS transportation system:
| | |
| --- | --- |
| Route/Area | Annual Transportation Fees (AED) |
| Al Qusais,Muhaisnah,Al Twar, Al Nahda 1,Al Nahda 2,Al Mamzar, AbuHail | 4,450.00 |
| Sharjah (Al Qasimiya, Abu Shagara, Rolla, King Faisal Street,Muweilah) | 5,250.00 |
| Jumeirah,Al Quoz,Ajman | 5,550.00 |
| Hor Al Anz, Hamriya,Al Wuheida, Muraqqabat,Al Baraha, Naif,Al Muteena, Al Rigga, Rashidiya, Mirdif,Al Warqqa, Sharjah (Al Nahda, Al Taawun,Al Majaz, Al Khan, Buheirah,Al Wahda, Jamal Abdul Nasser) | 5,000.00 |
| Bur Dubai,Karama, Satwa, Jaffliya, Al Jaddaf,International City, Ras Al Khor | 5,400.00 |
You can visit their school transport service page for the registration, payment methods, refund policy, terms, and conditions.
Parent's review
The school is making progress significantly. AIS, Dubai considers parents as partners in their child's character building and development. That's why they have facilitated all parents with the Parent Forum. They also held parent-teacher meetings more often to discuss their child's report. Parents of alumni and present students have shown their satisfaction towards school management, teaching strategies and methodologies, and the school environment.
Parents of students under 6 years are found more satisfied with the compassionate and committed staff as they provide a happy, secure, supportive learning environment to foster mental, physical, and academic growth. They also shared that their tiny tots love going to school daily and enjoy bonding with their teachers and classmates. Apple International School has a section for parents on their official website which shows they care about parents' needs. You can visit that to discover more about them.
Apple International School vs. other schools of Dubai
This comparison chart shows you the parameters needed to evaluate or differentiate schools to pick the top one for your child. Check this table out and know how Apple International School differs from any other private school in Dubai.
School Contact Details
The school timings are 7:30 am – 4:30 pm throughout the week, and it is off on Friday. Below are the contact details of AIS on both campuses.
AIS Primary Campus (FS – Year 4)
| | |
| --- | --- |
| Phone No | +971 4 263 8989 |
| Email | reception@apple.sch.ae |
| Address | AIS Primary campus: Doha Road, Behind Emirates Driving Institute, Al Qusais-1, P.O.Box: 33963, Dubai, U.A.E |
| Website | https://apple.sch.ae/ |
AIS Secondary Campus (Year 5 – Year 11)
| | |
| --- | --- |
| Phone No | +971 042279227 |
| Email | frontdesk@apple.sch.ae |
| Address | AIS Secondary campus: Apple International School Address: 40 3B Street, Al Qusais 1, P.O. Box 33963, Dubai. |
| Website | https://apple.sch.ae/ |
Conclusion
That's all for the Apple International School Dubai. We have given you an honest and detailed review of AIS for your ease. We'd suggest you know which curriculum and learning environment you want to provide your child before registering or filling up any admission form. Furthermore, if you want to read more reviews on Dubai schools, feel free to read our blog and choose an exemplary school for your child. Good luck with that!