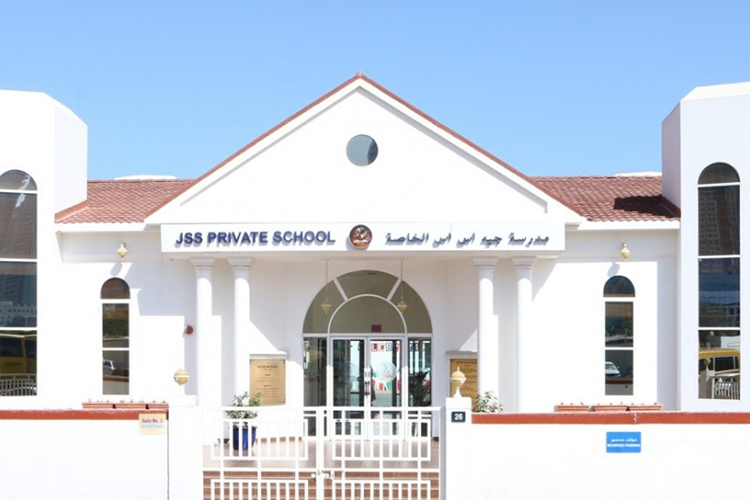 Jagadguru Sri Shivarathreeshwara Mahavidyapeetha (JSS MVP) is a formidable educational movement towards a better world dedicated to developing literature, education, and human culture. It's a trust which some also call the socio-cultural institution that has established more than 300 institutes all over. JSS Private School and JSS International School in Dubai are the constituents of JSS MVP. Their institutes provide high-quality academic services, different sports, and cultural activities opportunities, and an outstanding lifestyle with excellent infrastructure. Briefly, trust is contributing and positively serving the world.
Being a parent, you must be looking for a school that not only teaches what's in the textbooks but also gives them the freedom to seek and learn the knowledge, which leads them to excellence and self-satisfaction. In today's review-based blog, we will discover the learning environment of JSS Private School Dubai. So, let's get started!
About School
In 2011, JSS Private School started offering its outstanding academic services in Dubai with a vision and mission of providing a stimulating world-class education for life with a keen sense of social awareness, commitment, and responsibility. They are rated very good by the KHDA's DSIB inspection teams. They believe that all individuals have a right to learn, contribute to the peace and harmony of the world, and responsibility to protect and strengthen others; they have mentioned it all on their official website. And their academic results and alumni speak volumes.
JSS Private School has hired the most talented, professional, organized, and highly qualified teachers from all over. Students look up to them as role models to chart out their future.
School's Policies
JSS Private School has a certain set of policies, and it is mandatory for all children, school staff, and parents to follow.
Here is the table of policies with their detailed information attached.
School's Curriculum
JSS Private school has taken its curriculum lead from the National Curriculum Framework (NCF 2005). They teach CBSE Curriculum, and their curriculum expectations are met through seven learning areas, which are:
Physical Development
Mathematics
Expressive Art and Design
Understanding the World
Literacy
Language and Communication
Emotional and Social Development
From kindergarten to grade 12, they provide a personalized learning approach, the best possible kind of education, that successfully enables students to emerge in 21st-century competencies. Moreover, JSS PS has modified and reviewed its curriculum regarding assessment strategies, teaching strategies, and content for effective curriculum delivery. You must go through their curriculum design to make a wise decision.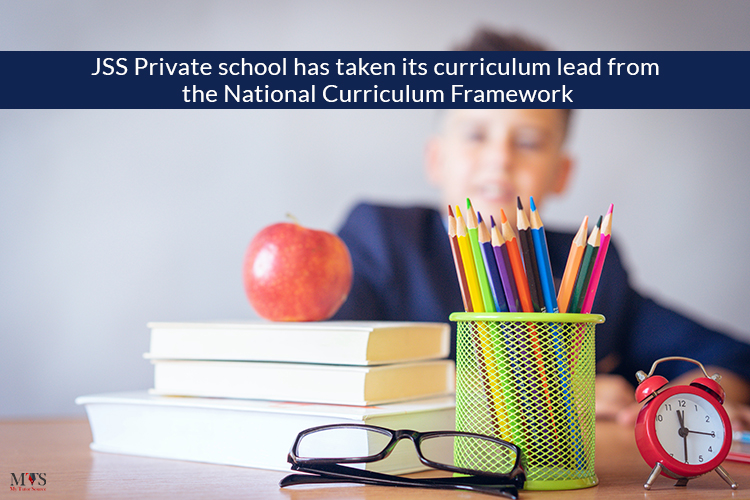 Co-Curricular Activities
To expose the children and young adults of JSS Private School to the world and develop essential skills, they provide unique, positive, and educational experiences. The school has divided its co-curricular into two, named:
Beyond the classroom
House system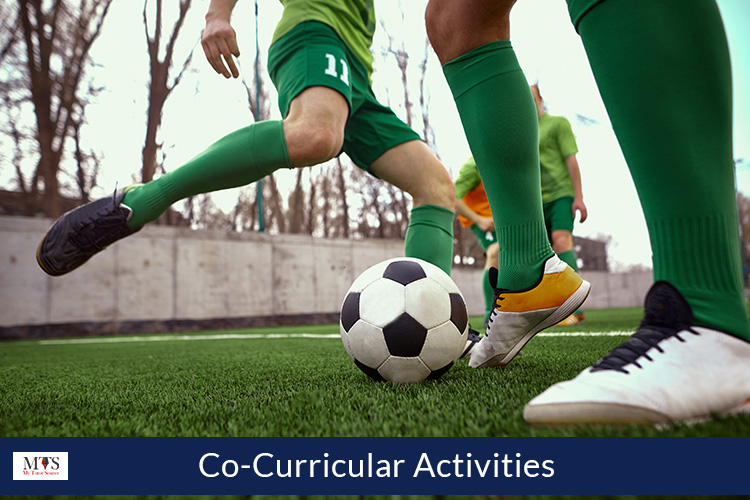 Beyond The Classroom
The activities here are designed to shape the students into future leaders and learn a certain set of skills they can carry throughout their lives. Those activities are:
The Voice of JSS PS
Charity Initiatives
Community Links
Health Beats
Environmental Initiatives
Team ABLES
JSS Pulse
House System
The JSS PS has divided itself into four houses, and each house is supported by Deputy House Captain, House Captain, and Four House Perfects and headed by House Master or House Mistress. The main objective of introducing the house system in school is to involve students in sports, arts, and cultural activities.
Furthermore, they have named each house after famous birds and colors to make aware students of the wildlife and environment. The names of houses are:
Hornbills (Blue)
Falcons (Green)
Flamingoes (Red)
Macaws (Yellow)
Transport Service
JSS Private School offers a safe, reliable, and professional door-to-door transport service. The school directly manages the service, and the buses cover routes of Dubai and Sharjah only. However, terms and conditions are applied. Below are the bus routes tables, find yours and fill in their transportation registration form to book a seat.
| | |
| --- | --- |
| Location | Bus Routes Covered |
| Dubai | Bur Dubai, Karama, Oud Metha, Satwa |
| Dubai | Jumeirah, Marina, JLT, Gardens, Discovery Gardens, Meadows/Springs, TECOM/Greens, Al Barsha |
| Dubai | Al Qusais, Muhaisnah- Al Qusais, Deira, Al Quoz/Al Khail Gate |
| Dubai | JVC (Jumeirah Village Circle), DIP, Motor City/Rim Ram, International City, Ras Al Khor/Mirdiff, Rashidiya/Garhoud, Al Nahda Dubai |
| Sharjah | Abu Shagara, Sharjah Rolla, Sharjah Al Taawun Mall, Sharjah Al Nahda, Sharjah National Paints |
Fee Structure of Transportation
Transportation – Dubai
| | | |
| --- | --- | --- |
| Area | Monthly Fee | Total Fee |
| Dubai Routes | AED 500 | AED 5000 |
Transportation – Sharjah
| | | |
| --- | --- | --- |
| Area | Monthly Fee | Total Fee |
| Sharjah Routes | AED 600 | AED 6000 |
JSS Private School Dubai Fee Structure
While submitting the application form in JSS Private School Dubai, everyone has to pay a registration fee of AED 500, which is non-refundable. Their fee counter remains open from Sunday to Thursday: 8:00 am to 2:00 pm and on Saturday: 9:00 am to 12 Noon.
Below are the updated fee structures of all stages:
Kindergarten Fee Structure
| | | |
| --- | --- | --- |
| Grade | Monthly Fee | Total Fee |
| Pre – KG | AED 1123 | AED 11230 |
| KG 1 & KG 2 | AED 1177 | AED 11771 |
Primary Stage Fee Structure
| | | |
| --- | --- | --- |
| Grade | Monthly Fee | Total Fee |
| Grade 1 & Grade 2 | AED 3884 | AED 12947 |
| Grade 3 & Grade 4 | AED 4238 | AED 14125 |
| Grade 5 | AED 4590 | AED 15301 |
Middle Stage Fee Structure
| | | |
| --- | --- | --- |
| Grade | Monthly Fee | Total Fee |
| Grade 6 | AED 1530 | AED 15301 |
| Grade 7 & Grade 8 | AED 1648 | AED 16479 |
Secondary/Higher Secondary Fee Structure
| | | |
| --- | --- | --- |
| Grade | Monthly Fee | Total Fee |
| Grade 9 & Grade 10 | AED 1766 | AED 17655 |
| Grade 11 | AED 2082 | AED 20824 |
| Grade 12 | AED 2438 | AED 24384 |
Parent's Review
The school has been rated as one of the best private schools in Dubai. Parents ensure their satisfaction with the whole staff, environment, and curriculum design of JSS PS. All are quite confident of the school's ability to meet their child's personalized and certain learning needs. They cherish the regular positive growth of their children, and the parents of alumni are the proud ones. Moreover, the school encourages and wholeheartedly welcomes parents' involvement and provides plenty of opportunities to them through coffee connect, social events, and other activities throughout the year.
The school has also been given the liberty to share feedback or suggestions anytime. You can submit yours by simply tapping on Parent Feedback/Suggestion Form, available on their official website. You can also read the testimonials of their former students on their website who are doing great around the globe.
JSS Private School vs. other schools of Dubai
There are certain parameters to compare an institute with another to pick the best one for your child. For example:
| | | |
| --- | --- | --- |
| Parameters | JSS Private School Dubai | Ignite School Dubai |
| Grades | Pre – KG to Grade 12 | Kindergarten to Grade 12 |
| Curriculum | CBSE | American |
| Gender | Co-education | Co-education |
| Average Fees | AED 11,771 to AED 24,384 | AED 29,000 to AED 44,000 |
| Transportation Service | Yes | Yes |
| Leadership | Ms. Chitra Sharma (Principal | Mr. Scott Poloff (Director) |
| Official Website | https://www.jsspsdubai.com/ | https://igniteschool.ae/ |
Note that the comparison mentioned above has nothing to do with the school ratings or academic standards. That is just for your acknowledgment and ease.
JSS Private School Contact Details
| | |
| --- | --- |
| Phone No | +971 43446419 |
| Fax No | +971 43446519 |
| Email | info@jsspsdubai.com |
| Address | 343 & 132 – 40 B St Al Safa, Dubai, UAE. Near Business Bay Metro |
| Website | https://www.jsspsdubai.com/ |
Conclusion
School is the child's second home, so make sure to pick a place where your children can be themselves freely. Finding the best private tutor and private school is challenging. But thanks to technology, we now don't have to visit places and buy prospectus to choose the best school for our kids. You can even take a virtual tour of the school with a click. Therefore, invest time on the internet and discover everything you should know before applying to a school. Good luck with school hunting!