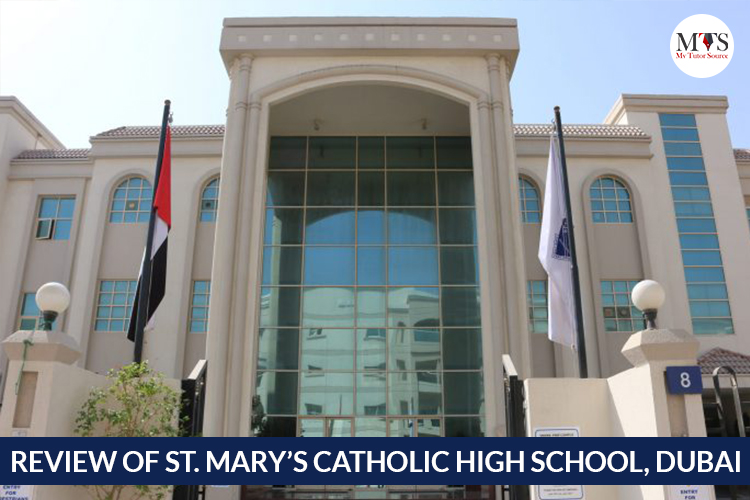 Isn't it hard to choose the best school among more than 190 schools for your kid while living in Dubai? I am sure it is. If you know to what extent your child is willing or looking forward to starting their school life, you become more conscious of picking one for your child. So many things need to be noted when selecting a school for your kid. You cannot rush while making such choices. So, keep reading and learn everything you want to know about St. Mary's Catholic High School before jumping to any conclusion.
And here we will give a detailed and honest review of this school which will surely help you make the right decision for your kid because your kid's proper schooling and self-development matter to us.
About School
This school was founded by Fr. Eusebius Daveri in 1968, and Sheikh Rashid bin Saeed Al Maktoum, Dubai Ruler, granted the land for this school. It was high of him. Moreover, the struggle and hard work of the school faculty and other staff that this single classroom school name 'St. Mary's Catholic High School' is considered when people count the U.K. National Curriculum international schools of Dubai.
Kids who studied at St. Mary's Catholic High School' (St. M.C.H.S.) have got themselves admitted to most of the world's prestigious universities. It shows the quality of education they must have delivered to their students. Moreover, during the pandemic, their distance learning plan went well too. The school faculty are from all over the world, so the students are a mixture of Muslims, Indians, and Christians. However, nobody is permitted to learn other religious studies.
Academic Curriculum of the School
St. Mary's Catholic High School follows the British curriculum, and it offers Arabic as a compulsory subject till Grade 10. Moreover, they prepare their students for GCSE / IGCSE and GCE Level exams, and students with religious differences can study Bible or Quran freely. It shows that this school gives freedom of speech and choices. Just don't go with its name only; its students' achievements in IGCSE and GCSE exams prove that this school can help your kid perform the same or hopefully way better.
Moreover, the award ceremony held by this school based on particular exams motivates the students to do better and win the prize.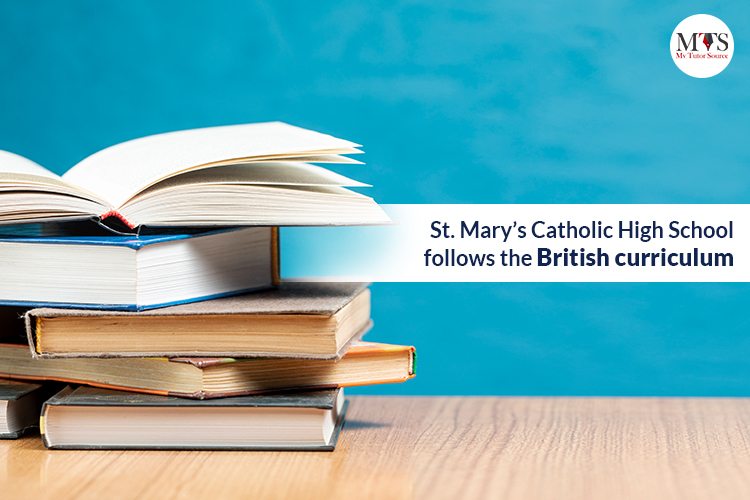 Extracurricular Activities at St. Mary's Catholic High School
This school facilitates the kid to be a part of extracurricular activities. The time for practicing them is after school. Students can be a part of Quiz, Sports, Cookery, Needlework, Paper Quilling, Debates, Music, Web, Art, and craft. The variety of options helps the kids to acknowledge their interests and talent.
Furthermore, St. Mary's Catholic High School has an environmental and science club for its students. And the library of the school is designed in a way that it has computer systems and books. Students are free to read, do their research work and make use of the internet.
Student Body of St. Mary's Catholic High School
This school has no restrictions or religious boundaries, as students from any religion can be a part of it. It ensures religious respect for the kids and expects the same in return. It's a co-education school, from year 1 to year 13.
Transport Facility
The thing that gives you comfort as a parent is the transport facility provided by the school. St. Mary's Catholic High School has a transportation contract with School Transport Services (STS), these means do not have their buses, but they have arranged a facility for their students.
And the fees collected for bus services are retained by the School Transport Service, STS.
School Contact Details
The school timings are the same from Sunday to Wednesday, 7:10 am to 1:40 pm, and on Thursday, timings are from 7:10 am to 12:30 pm. The contact details of the school are given below:
| | |
| --- | --- |
| Phone No: | +971-4-3370252 |
| Email: | maryscol@emirates.net.ae |
| Address: | St. Mary's Catholic High School, P.O.Box 52232, Dubai, UAE |
| Website: | www.stmarysdubai.com |
Academic Fee Structure
St. Mary's Catholic High School gives its textbooks from year 1to year 4, and from year 5 to year 13, it has its study material which students have to buy. Moreover, it has additional computer lab charges, and the table of fee structure given below has the total amount. However, the kids with no-science subjects do not have to pay computer lab charges of AED 1092.
To make sure if the school clubs, sports, or other activities have charges on them, please visit the school website or see them.
| | |
| --- | --- |
| CLASS | Annual Fees |
| Year 1 | AED 8456 |
| Year 2 | AED 8510 |
| Year 3 | AED 9271 |
| Year 4 | AED 9325 |
| Year 5 | AED 9515 |
| Year 6 | AED 10150 |
| Year 7 | AED10177 |
| Year 8 | AED 11571 |
| Year 9 | AED 11571 |
| Year 10 | AED 13312 |
| Year 11 | AED 13312 |
| Year 12 | AED 16389 |
| Year 13 | AED 16389 |
Parents Review
While collecting the parent's review on the institution, we learned that St. Mary's Catholic High School website has a complete Parents Guide. They have explained everything in detail, not only this, but they have also made a SIMS PARENT APP mentioned on the site. And the seasonal influenza Guide in the Arabic language is also given. It shows the school takes care of the parent's needs, and getting to know this is proof that they have worked quite smartly to acknowledge them.
Almost 75% of the parents are satisfied with their kids' academic performance, and they recommend this school to other parents. They reviewed school management and faculty work as impressive. They shared that their kids enjoy being a part of school clubs after academic hours.
St. Mary's Catholic High School vs Other Private School in Dubai
Know that the comparison is not to show the rank of the school. We have made the table below to tell you how St. Mary's Catholic High School differs from any other private school in Dubai. And this is how you can understand better, and making such a comparison of schools in an area helps pick the right school for your kid.
Parameters
St. Mary's Catholic High School
GEMS International School Al Khail
Year of Origin
1968
2013
Grades
FS 1 to Year 12
FS 1 to Year 13
Curriculum
EYFS, GCSE, A Level
IB, IB DP, IB PYP, IB MYP
Gender
Co educational
(separate classes)
Co educational
Average Fees
AED 14,000
AED 61,000
Conclusion
Here we conclude the detailed review is that St. Mary's Catholic High School is one of the best schools in Dubai. It can be a good or right decision for your kid. Other than this, make yourself clear about the curriculum you want your children to study and then pick any school that fits specific criteria And on our behalf, we have given our best to give you the honest review you are seeking. And if you want to read more reviews on other schools based in Dubai, you are welcome to check out our other reviews.