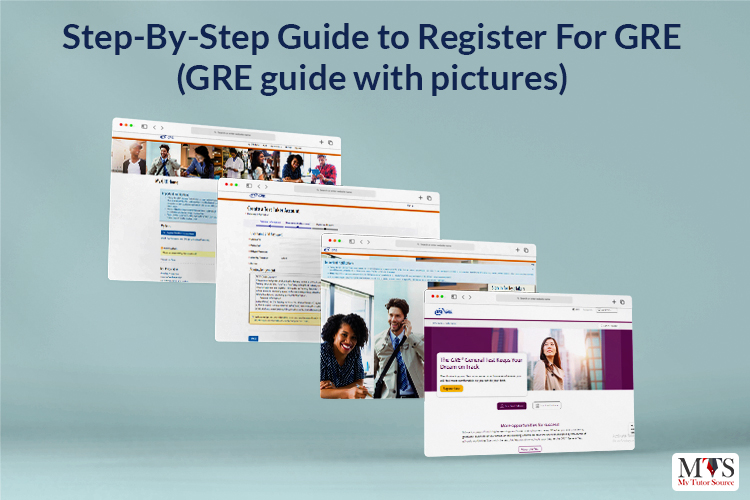 School's over, and now is the time to crack the GRE with flying colors! Make sure to discover everything you need to know about GRE and its preparation before moving to the next step. And the next step is registering yourself in the GRE. Registering online will take you 10 to 15 minutes only, and you can do so on your phones too.
In this blog post, we will go through the step-by-step guide to register for the GRE online. Whether you want to take the GRE at home or any test center nearby, the registration process is the same for both. So, let's get started.
Tools and Supplies Required for GRE Registration Process
Before signing in or creating an account at ETS, ensure you have everything required for the registration process to avoid any disturbance. Here's what you need:
A stable internet connection
An electronic device (computer, laptop, or phone)
Your complete personal information
Your credit card information
GRE total fee (USD 205)
Time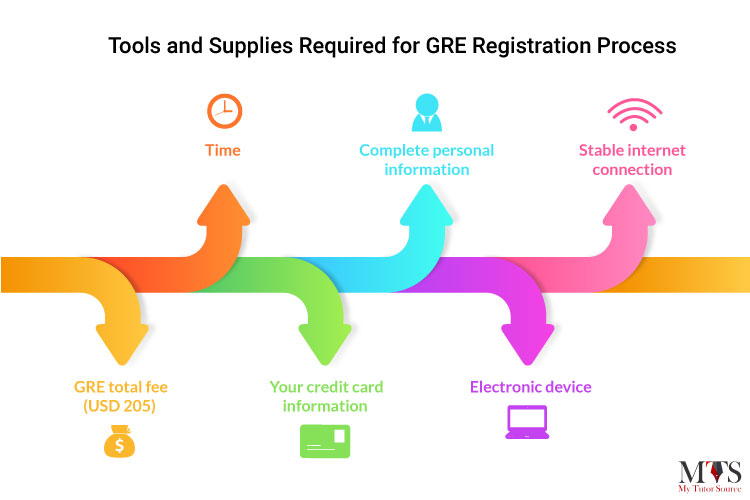 GRE Registration Process Guide
Go to ETS Website
It all starts by visiting the ETS official website. Tap on the icon that says "Sign In/Register" located on the right top of the GRE Home page.
A single click on it will take you to a new page.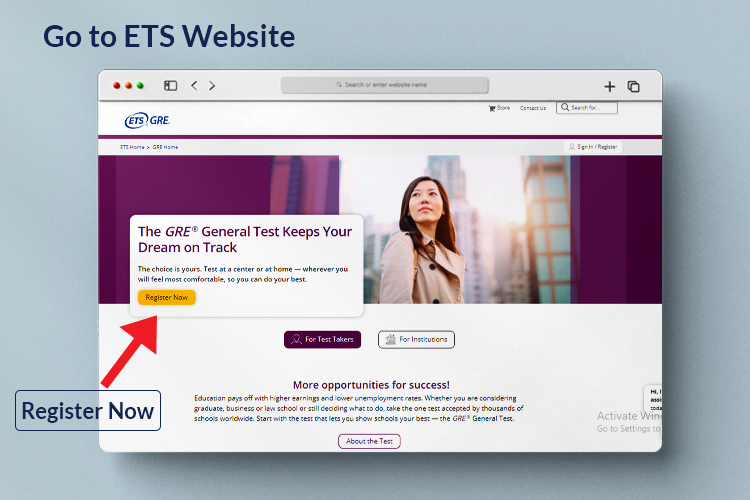 Create an ETS Account
Below the Sign In for Test Takers box, there is another box for New Users; go there and select the "Create an Account" option.
Note: You can create only one ETS account at a time. However, the password can be changed or recovered, in case you forgot!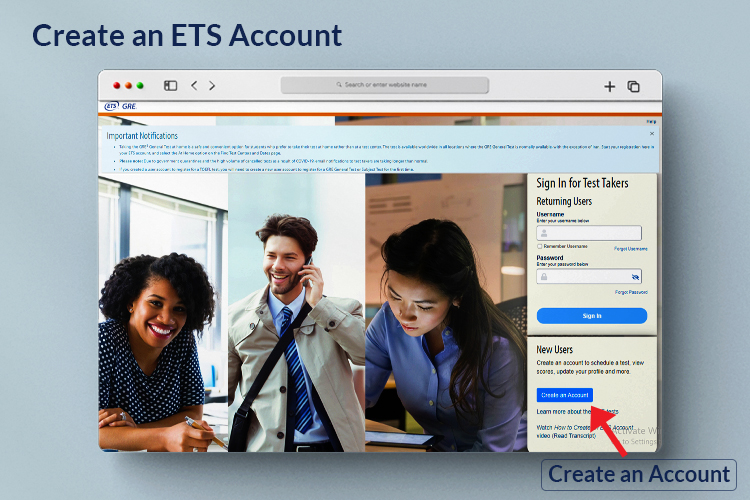 Time To Enter the Required Information
The ''Create an Account" button will take you to another new page with a heading of "Create a Test Taker Account." You have to add the required information, and this process will complete in 3 stages.
Personal Information
The stage is all about you! It requires your First and Last Name, Date of Birth, Gender, Social Security Number, Email Address, Home Address, Phone Number, and details.
After filling in the data, re-confirm everything and click on the Next button.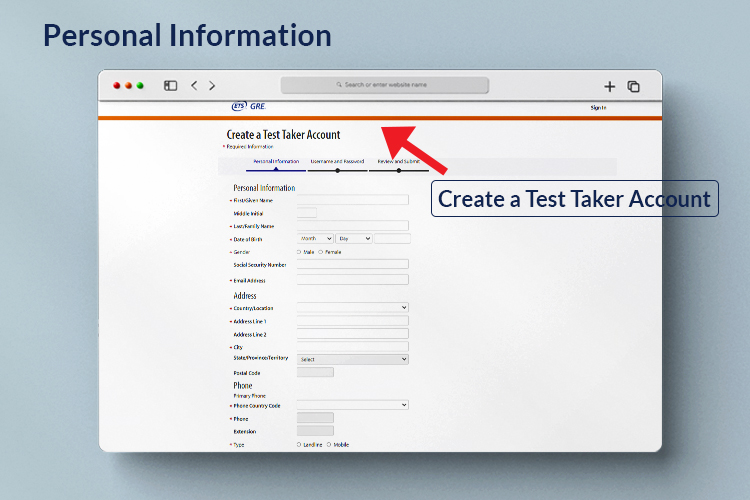 Username and Password
It's the second stage, and you have to create your login credentials. Set up your Username, Password, Security Question, etc., and click on the Next button.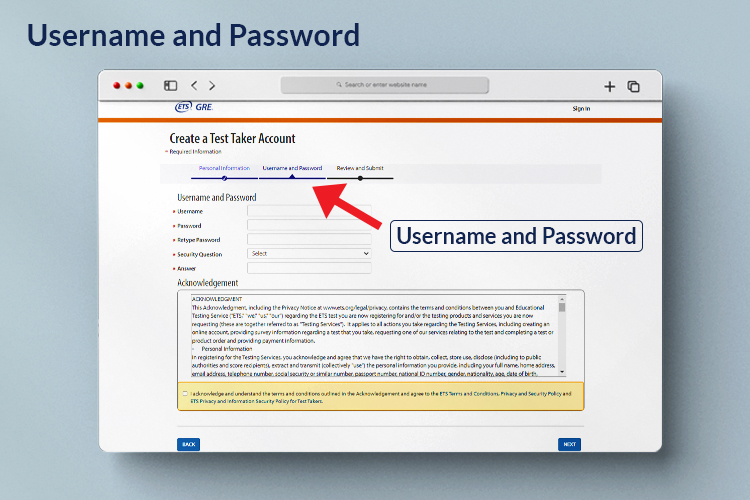 Review and Submit
It's the third and last stage and then you will get your account created. So, verify or re-check all the details and then submit the form for further process.
All done? Now check the id you have mentioned in the form. You will receive an email with a verification link and click on it to complete the verification process.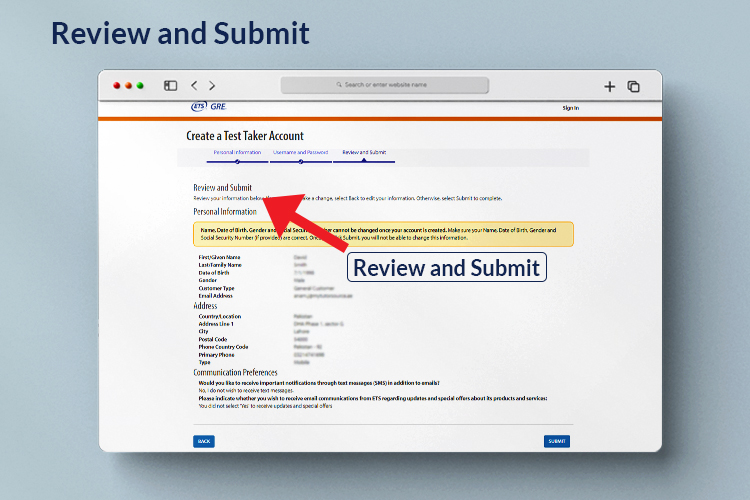 Register Yourself
Now go to the ETS GRE Home page and Sign In to your account with the username and password you just have created. After logging in, click on the "Register/Find Test Centers, Dates" button to continue your GRE Registration process.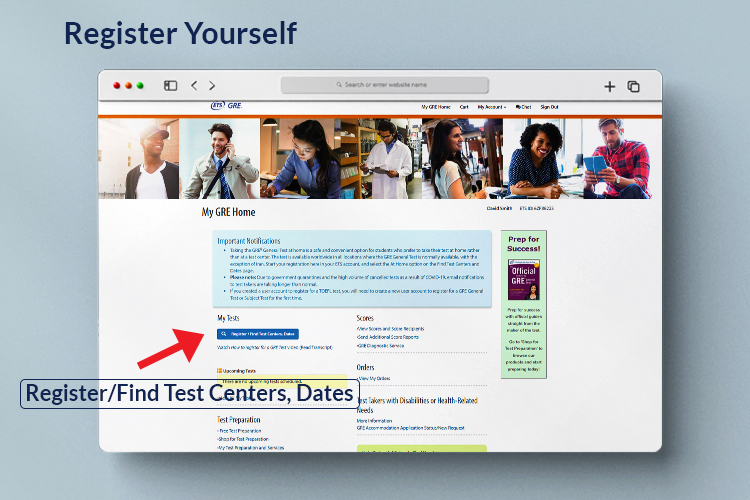 Find Test Centers and Dates
The new page will help you find and select the available dates and test centers for the exam. So, fill in the required boxes by choosing any test center and date that suits you.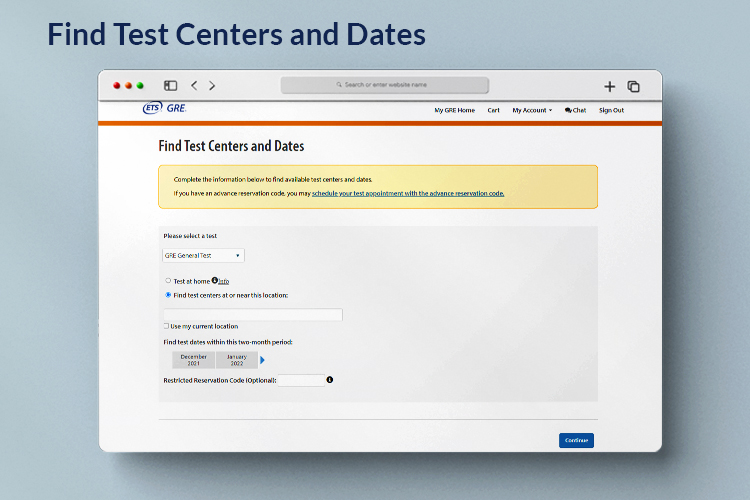 Final Stage: Verification
You are not completely done yet, but almost there. Verifying your details is the final stage of your registration process, and you can also edit the information if you want. All sure? Now, confirm your Test Registration and Personal Information details and move ahead.
You will also find a tab with GRE Search Service, Background Information, and Test Preparation option. Their purpose is different and choosing them to use is totally up to you.
The GRE Search Service option here will allow the Universities to reach you out for admission purposes. You can also share your background information and test preparation type if you want. You can choose to skip the details except for the ones with an asterisk.
Pay the GRE Fee
The verification process is done, and now is the time to pay the fee. You must be on the Payment page now so, fill in the required details very carefully. Moreover, you can pay your GRE fee via debit card, credit card, Fund Transfer, or PayPal. Pay your GRE fee and head towards your mailbox.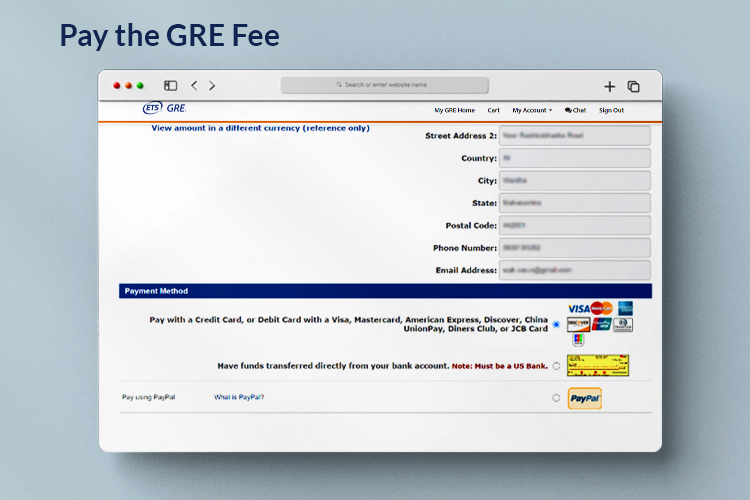 Last Step: Confirmation Mail
The confirmation email includes your GRE exam details like date, testing center, and time. Once you get the confirmation mail, you are done with your GRE Registration process.
Alternative Method of Registration
You can also register yourself for the GRE by phone call or mail. Even if you want to reschedule or cancel your test, you can call RRC (Regional Registration Center). Call them a week or at least two working days before the desired GRE test date for registration purposes. The whole process will be done on call, and at the end, they will share your exam date and other details with you. Note them down carefully, and you will need them on exam day.
For rescheduling and canceling your test registration, you can either call GRE Services or do it on your own via an ETS account.
RRC for GRE in International Locations
RRC's complete form is Regional Registration Centers, and they are located in all areas who take GRE at computer-delivered testing centers. Check out the tables below to know if you have any Regional Registration Center (RCC) in your region or not.
Region 3
Region Name
Japan
Address
Prometric Japan Co., Ltd.
Ochanomizu Sola City Academia 5F
4-6 Kanda Surugadai, Chiyoda-ku
Tokyo 101-0062 Japan
Phone
81-3-6204-9830
Fax
81-3-6204-9649
Region 5
Region Names
Argentina, Bolivia, Brazil, Chile, Colombia, Dominican Republic, Guatemala, Mexico, Peru, Venezuela
Address
Prometric Operations Center
7941 Corporate Drive
Nottingham, MD 21236
USA
Phone
1-443-751-4995
Fax
1-443-751-4980
Region 6
Region Names
Australia, Bangladesh, Indonesia, Malaysia, Nepal, New Zealand, Pakistan, Philippines, Singapore, Thailand, Vietnam
Address
Prometric Technology Sdn Bhd
Co. No 993721-U
ATTN: Regional Registration Center
Suite 11-1 & 11-3, Level 11, Wisma UOA Damansara II,
No 6, Changkat Semantan, Damansara Heights,
50490 Kuala Lumpur, Malaysia
Phone
60-3-7628-3333
Fax
60-3-7628-2222
Region 7
Region Names
Egypt, Jordan, Kuwait, Lebanon, Qatar, Saudi Arabia, United Arab Emirates, West Bank, Yemen
Address
Prometric Technology Sdn Bhd
Co. No 993721-U
ATTN: Regional Registration Center
Suite 11-1 & 11-3, Level 11, Wisma UOA Damansara II,
No 6, Changkat Semantan, Damansara Heights,
50490 Kuala Lumpur, Malaysia
Phone
31-320-239-530
Fax
31-320-239-531
Region 9
Region Names
Botswana, Ghana, Kenya, Mauritius, Nigeria, South Africa, Tanzania, Uganda
Address
Prometric
Building 3
Finnabair Technology Park
Dundalk
Co Louth
Ireland
Phone
31-320-239-593
Fax
31-320-239-886
Region 12
Region Names
Armenia, Austria, Belgium, Bulgaria, Croatia, Czech Republic, Denmark, Finland, France, Georgia, Germany, Greece, Hungary, Ireland, Israel, Italy, Kazakhstan, Kosovo, Latvia, Luxembourg, Netherlands, Poland, Portugal, Romania, Russian Federation, Serbia, Slovakia, Slovenia, Spain, Sweden, Switzerland, Turkey, Ukraine, United Kingdom, Uzbekistan
Address
Prometric
Building 3
Finnabair Technology Park
Dundalk
Co Louth
Ireland
Phone
31-320-239-540
Fax
31-320-239-864
Region 13
Region Names
People's Republic of China
Address
NEEA/GRE Call Center
Guoshi Building, No.1
Shangdi 6 St.
Haidian District
Beijing, 100085
People's Republic of China
Phone
86-(0) 10-82345673
Fax
86-(0) 10-61957801
Email
greibt@mail.neea.edu.cn
Website
https://gre.neea.cn
Region 14
Region Names
India
Address
Prometric
2nd floor
DLF Infinity Tower–A
Sector 25, Phase II
DLF City Gurgaon
Haryana 122002
India
Phone
91-124-4147700
Fax
91-124-4147773
Note: Candidates from China will use the NEEA account, and the ones from Korea, Taiwan, and Hong Kong will use the ETS account for registration purposes.
So, that's all for now! Register yourself in GRE using our guide. And if you need any guide or help in the preparation of GRE, feel free to reach out to our expert GRE tutors.