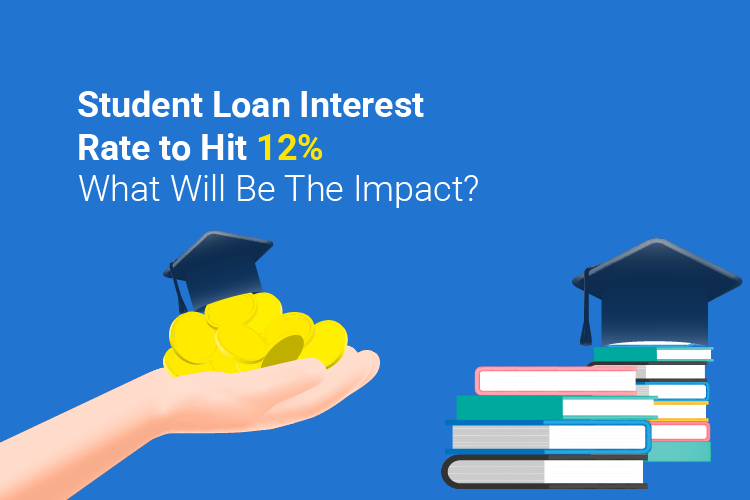 According to recent interviews and research, students, specifically English and Welsh graduates, are expected to have a rollercoaster change in their student loans interest rate.
Yes, according to IFS (Institute of Fiscal Studies), the student loan interest rates are expected to increase up to 12% in the UK by this Autumn. This expected change is for students who took loans after 2012 till now.
We know this is a piece of terrible news, especially for high-earning graduates. How? Because their current interest rate is 4.5%, and if it increases, the new figure will be a whopping 12%.
Similarly, the interest rate of low-earning graduates was 1.5%, but now it is expected to be 9% after the increase.
Why is the Interest Rate Increasing?
The student loan interest rate is calculated by focusing on a graduate's earnings, the rate of RPI (Retail Prices Index) inflation, and the rate of RPI inflation + 3%. However, the bad news is that the RPI Inflation rate has risen to 9%, which is the highest in the country since 1991.
Now obviously, poor students and graduates will have to face its wrath. Their interest rates are literally being doubled. A member of the National Union of Students, Hillary Gyebi-Ababio, described this expected change as brutal.
How Long Will This Continue?
According to the Institute of Fiscal Studies, the student loan interest rate will again fall down to 7 percent to 9 percent around March 2023. In 2024, the rate is expected to come down to 0% before rising up to 5% again in 2025.
However, the good news is that this is expected to be a very short spike, and things will get back to normal soon. This means graduates before 2012 and after 2023 won't have to face the harsh consequences of this change. But trust me, things won't still be the same after 2023; there will be some changes in the interest rate system.
Moreover, if the government finally decides to implement this change, they will also increase the repayment window from 30 to 40 years.
What Will Be the Impact?
Let's state that student loan interest rates should be low, stable, and convenient. Increasing the interest rates on their loans will only give them extra burden and trouble. According to senior research economist Ben Waltmann, there is no good economic reason for these planned changes, and the government should reverse them for the betterment of the youth. He further said there are still three months in Autumn, so the minister should find alternate solutions for these expected changes.
Not only this, but students will now hesitate to go to colleges and universities because of the eye-watering interest rates. They would prefer to ditch higher studies instead of taking a loan with such a higher rate. Moreover, the previous graduates will now face tons of mental health issues due to the increased stress of repayments. Yes, they had to repay before too, but now they have to face a double rise in interest rate as well!
The vice president of the National Union of Students, Hillary Gyebi-Ababio, also stated that,
"Increasing the maximum interest rate on student loans to 12 per cent will deter thousands of students from going to university, and will cause unparalleled uncertainty for the millions of graduates already repaying their loans with thousands of pounds added to their debt sheet,"
Moreover, she felt for the previous and current students and said,
"Students aren't cash cows, and we can't keep taking the brunt of this government's regressive actions that have left millions exposed to hardship."
The shadow education secretary Bridget Phillipson referred to this situation as a 'cost of living crisis' and said,
"As working graduates battle rising prices and the chancellor's growing tax burden, soaring interest rates risk piling on more pressure,"
Also, a spokeswoman from the Department of Education stated in her interview,
"Regardless, the government has cut interest rates for new borrowers so from 2023-24, graduates will never have to pay back more than they borrowed in real terms."
Final Words
These expected changes in student loan interest rates might be a good decision for the economy and inflation but definitely not a rational choice for students and previous graduates. Let's hope that the government finds an alternate solution to fix this fiasco. Till then, best of luck to the students, and fingers crossed!