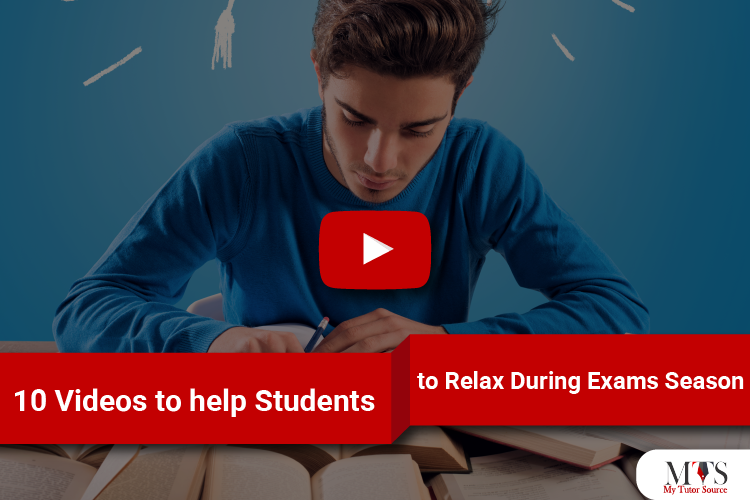 Exams season is usually the most challenging phase in a student's life. The constant pressure, revisions, and fear of what will happen just make you stressed and anxious, right? During this time, every student should find ways to help them relax and calm down and bear the wrath of the exams season peacefully.
Moreover, a relaxed mind will also help the students to focus and study better. So, if you are a student dreadfully wanting to relax during exams, don't worry. As always, we are here to the rescue!
Below, we are sharing 10 video links and how they can help students to relax and feel motivated during exams season. Also, some of these videos will ask you to get up and move a bit, so don't be lazy at that time. Let us dive into the magic videos now!
1. Japanese Relaxation Method:
Stress is a significant part of a student's life whose exams are near. While it may seem like that stress is constant, it is not. You can do a lot of things to make that stress go away. In this video, we have an ancient Japanese technique and method you can perform to make your body and mind relaxed. This technique only requires the use of one of our hands; that's it!
This video describes the technique in a detailed yet simple manner, and every step is explained in a straightforward way. Just put on this video after your hardcore study session, and follow everything the video says for ultimate relaxation and comfort!
2. 10 Minutes of Funny Cats:
Cats are one of the funniest, most amusing, and cutest creatures on this planet. They are like a source of satisfaction for me, and I can spend hours just looking at them. Trust me; the same will be the case with you.
Below, we are sharing a 10 minutes video link of cats being their true, amusing, and funny selves and doing things that will leave you laughing with tears. You will see everything from mimicking humans to tripping and falling to making noises! Eventually, your mind will feel relaxed, calm, and fresh after laughing.
Video Link: https://www.youtube.com/watch?v=_Qr8oUYLD-c
3. The illusion of Existence – Liquid Drum and Bass Mix:
Just because you are passing through the exams season, it doesn't mean you are prohibited from listening to music. Music is therapy and definitely the best medicine for stress, worries, and anxieties. Not only this, but good and calming music also helps you sleep peacefully.
This video below, 'The illusion of Existence', has 60 minutes of calming liquid drum and bass mix sounds. Trust me; this music will help you go through every dark spot of your life, even if it is the exams season.
4. Gratitude Affirmations – 10 Mins Every Morning:
Again, as a student, you are constantly worrying about your grades and future when the exams season starts, and while doing that, you forget to appreciate the things and blessings you have. However, we have a news for you! Grades are not everything you need in life, and they are not a matter of life and death.
This 10 minutes video will help you acknowledge the fact that you have several and countless blessings to be thankful for. Whether it is your parents, your pets, your friends, life, etc. After listening to this, you will feel calm, peaceful, and definitely happier than you were before.
5. Deep Healing Music for Body & Soul:
If you are going crazy with your exams stress, we know what you need in your life: This Deep Healing Music for Body & Soul. All you need to do is take a break from your study sessions, sit or lay down alone, put your headphones on, and start listening.
This relaxing music will calm every inch of your body and mind. After this, your will be able to go back to study with a fresh mind, body, and soul.
6. Soap Cutting ASMR Compilation:
We all know what ASMR is, right? It is a sensation we get after watching something satisfied. This sensation is definitely something you need during exams season to calm and relax your mind, and this video will definitely help you do that.
This video is almost 24 minutes of cutting beautiful and colourful soaps in a satisfying matter. Just play this whenever you feel overwhelmed by the constant stress of studying. I love the sounds and visuals of this video, and I am sure you will love them too!
7. Motivational Speech by Steve Harvey:
There are times when you feel super demotivated and low during exams season, right? However, what works the best for you at that time? Yes, words of motivation by well-known personalities, just like this video.
This motivational speech by Steve Harvey is what every student going through bad days needs. His words are so strong, powerful, and influential that they leave a sudden wave of motivation inside your body. Just take 10 minutes out of your day and listen to it!
8. No Gym Full Body Workout:
Next, physical activities and exercises are known to be the best stress relievers of all times. How? Well, because they give you a boost of energy and endorphin (feel-good hormones). After that boost, you will feel relaxed, happy, and super fresh to concentrate on your work and study.
Here is a 5 minute, super easy, no gym full-body workout video for you. Just do this whenever you feel down and tired of the study session.
9. Glitter Soaps ASMR:
We can not get over the colourful and lovely-looking soaps and ASMR videos, so here is one more for you. Yes, these are soaps again, but of a different type. The crunchy sounds, colourful glitters, and satisfying visuals in this 5 minutes video will leave you mesmerized yet relaxed. Trust me; it will be a treat to your eyes!
10. 'Life' – A Silent, Smart, and Simple Short Film:
This last video, basically a short film, is specifically for students who are tired of the exams season, study sessions, and simply, student life. This short film gives a boost of motivation to the students. It explains how simple life really is, and how we make it complicated and hard.
We keep running after things that are not necessary, and we put our blood and sweat into those things. Whenever you feel tired, just watch this 2 minutes short film and I promise you will feel so much better.
Final Words
We have tried to make a helpful list of videos to help you relax, and we hope you at least find one that calms your mind. Again, yes, exams and studying are important, but so are your mental health and peace. You need to focus on both these groups equally.
Always remember: only a healthy and relaxed mind will lead you to success and prosperity, not a tired one. Also, if you are having a hard time preparing for exams, you can always contact us and ask for a professional tutor, subject vice! We will always be here to help you!