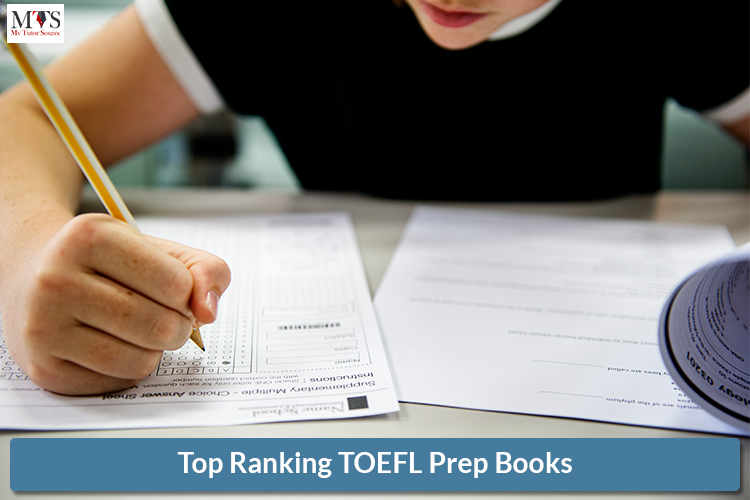 Are you confused by the myriad of preparatory books and online resources available for TOEFL?
Can't figure out which course of action would be in your best interest? Don't worry, this article is going to be your savior!!
Finding the right TOEFL books is not an easy task, but there is absolutely no need to panic, we have carefully curated a list for you, containing detailed information on all the books that you'll need.
As you continue to read, you'll find out why some books stand out from the rest. A good prep book allows students to enhance their performance on the test. It strengthens the necessary skills by offering practice questions, useful tips, and in-depth reasoning for different test questions.
If you are already clear on the TOEFL structure, continue reading below to find our take on what TOEFL books you should be reading. If you are new to this and need to know more about the TOEFL exam, we have still got you covered, check out our blog for a complete overview for TOEFL.
Here's our list of the 10 best TOEFL books and online resources:
Magoosh Online Prep
ETS: TOEFL Test Preparation
The Official Guide to the TOEFL by ETS
TOEFL iBT Prep Plus by Kaplan
The Complete TOEFL iBT Success on Udemy
TOEFL Preparation Book by TPB
TOEFL Preparation Book by Mometrix
Princeton Review TOEFL iBT Prep
TOEFL iBT: 8 Online Practice Tests by Barron's
TOEFL Pocket Vocabulary by Kaplan
Now let's get into details for each of this book, as we think you need to know why we have picked these books as our top 10.
1. Magoosh Online Prep
It is an online preparation course consisting of detailed video lessons and numerous test questions allowing you to polish your English skills. It offers access to tons of free eBook PDFs that you can go through. Moreover, Magoosh has the highest number of positive feedback from it's users, detailing how it helped them achieve their goals.
Its key features include:
150+ Lesson Tutorials
330+ Practice Questions & Explanation Videos
Quality Tutors to Assist you with all your Queries
Comprehensive In-Depth Review of all Sections
Guide to Help you Navigate through Exam Structure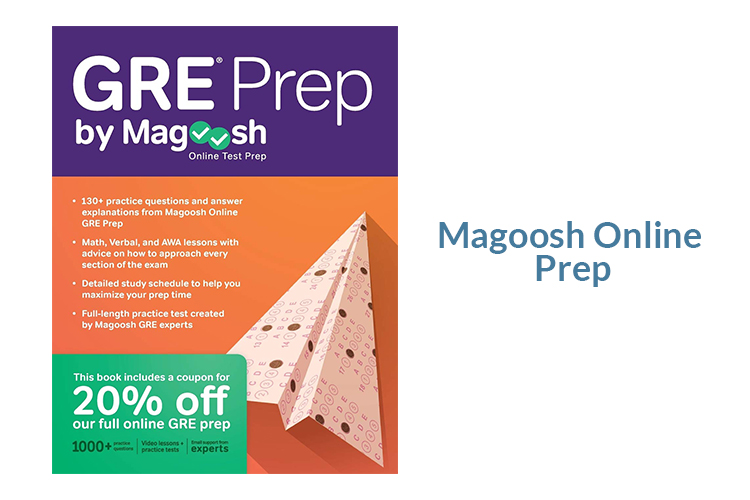 2. ETS: TOEFL Test Preparation
One of the best-ranked courses we recommend has been carefully crafted by experts from ETS. It encompasses all feature examples extracted from past TOEFL exams.
The key features of this course are:
Exam Evaluation Criteria
Unlimited Free Resources
Guidance on How to Register
Discounts for Preparation of Other Tests
Tips to be Prepared Fully for the Test Day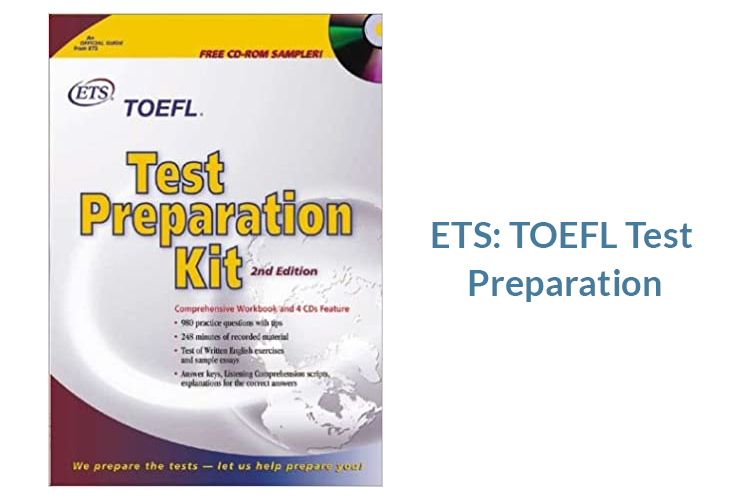 3. The Official Guide to the TOEFL by ETS
In terms of authenticity, an official guide would always consist of more accurate test questions, similar to the ones you'll find in the actual exam.
Although it plays a very important role in your preparation, you'll still need further support from various resources, as it doesn't focus greatly on skill-building and test-taking strategies.
The key features for this guide are:
Hundreds of Actual Practice Questions
A Full-Length Review of All Four Sections
4 extensive Official TOEFL Practice Tests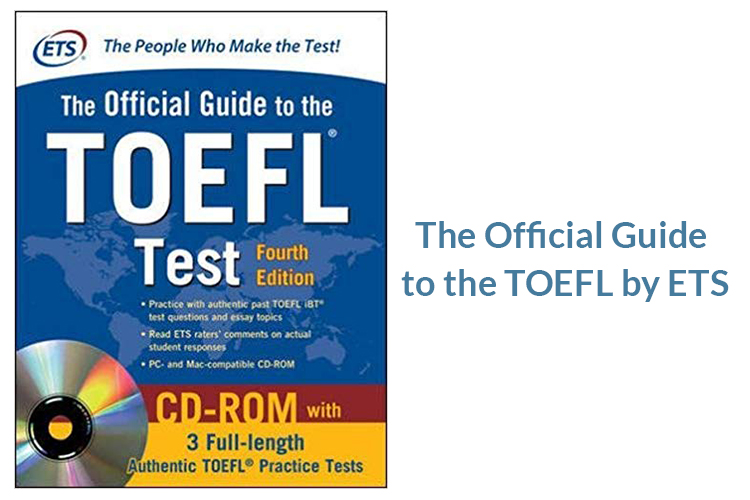 4. TOEFL iBT Prep Plus by Kaplan
Kaplan Prep Plus promises proven expertise, convenience, and guaranteed results to its clients.
The key features for this book include:
Smart Reports
Online Practice Tests
4/7 On-demand Content
More than 450 Practice Questions
Specific score-enhancing tips and techniques
95+ Minutes of Audio Available on CD and Online, with Complete Transcripts Available in the Book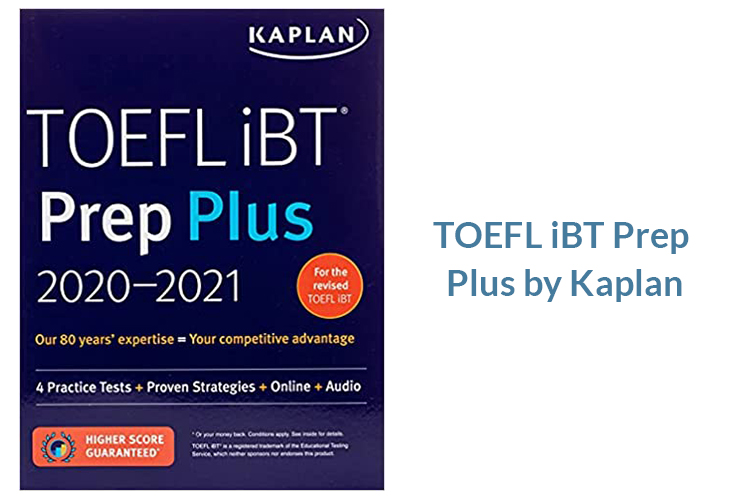 5. The Complete TOEFL iBT Success on Udemy
Udemy offers numerous TOEFL courses, but the most recommended one is taught by the exceptional Maria Guryeva, attended by 16K students. It has 4500+ reviews and 4.5/5 stars ranking online. This course is unique as it provides adept tactics, expertise, templates, and custom-tailored solutions to deal with all test questions.
The key features of this course are as follows:
Guide on Things to Look Out For or Avoid.
Thorough and in-depth overview of all four sections
Fosters Skills Required to pass New TOEFL iBT Test with 100+ Points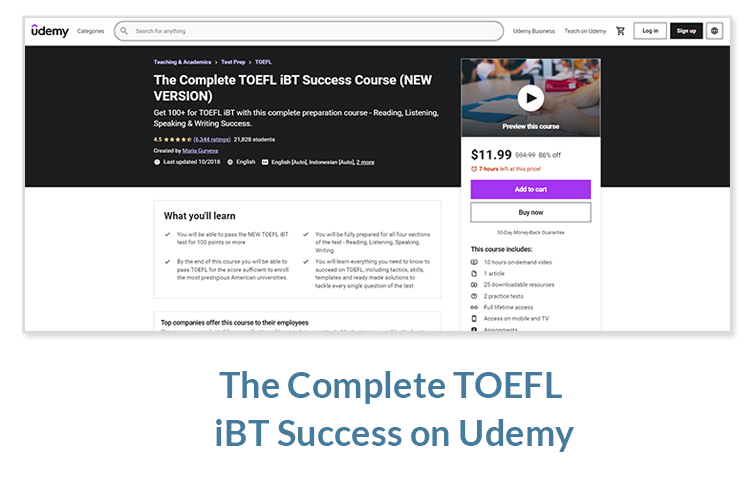 6. TOEFL Preparation Book by TPB
An all-encompassing guide offering detailed explanations for key concepts. The most interesting quality of this book is it's study plan, containing weekly and monthly schedules; keeping your preparation on track.
Its key features include:
Tips to Score Better
Easy Overview of the Test
Numerous Practice Questions
Detailed Review of All Four Sections
To the Point Explanation for Answers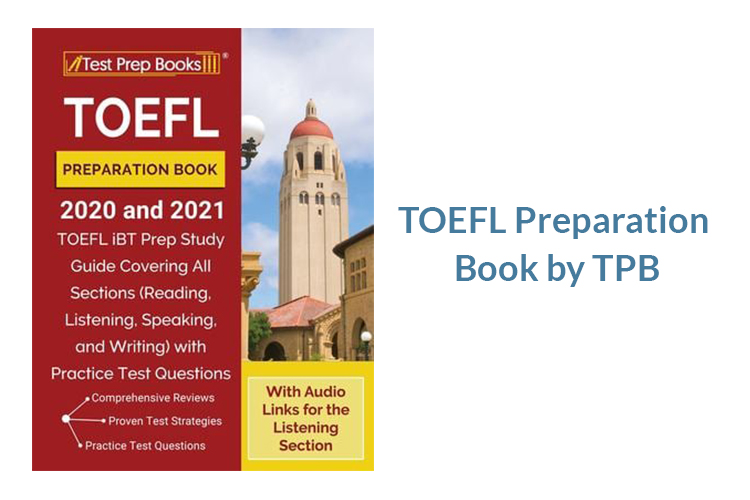 7. TOEFL Preparation Book by Mometrix
Mometrix is a comparatively new company focused on technical accuracy and comprehension; minimizing complicated academic language so you don't get confused.
Its key features include:
A Detailed Review
Guide on How to Boost Your Test Performance
Step-by-step Video Tutorials for Practice Test Question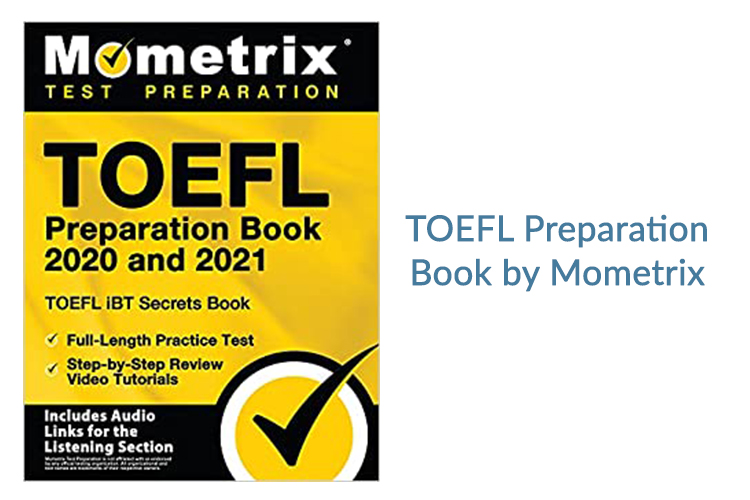 8. Princeton Review TOEFL iBT Prep
If you are looking for a more strategic approach, try Princeton Review TOEFL iBT Prep that has been facilitating students to achieve their academic goals since 1981. They provide special classes across 41 states and 21 countries, including online/classroom based courses, as well as private and small group tutoring.
Its key features are as follows:
Overview of Basic Grammar
Subject Reviews from Experts
Instructions on how to Compose High-Scoring Essays
Strategies to Organize Your Thoughts in an Effective Manner
Full-Length Simulated TOEFL ibt, Along with Audio Sections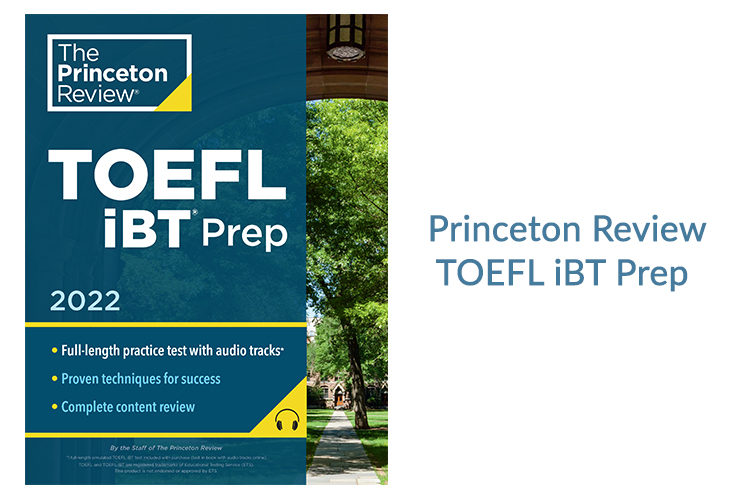 9. TOEFL iBT: 8 Online Practice Tests by Barron's
To be fully prepared for your test day consider Barron's practice tests. These tests stand out as they allow you to identify your weak spots and useful tips to strengthen your deficiencies.
Key Features:
Grammar Review
8 Detailed 1 Hour Practice Tests
List of Required Skills with Video Lessons
Pronunciation Guide, Featuring 200+ Campus Flashcards
PowerPoint Presentations, Handouts, & Resources for Tutors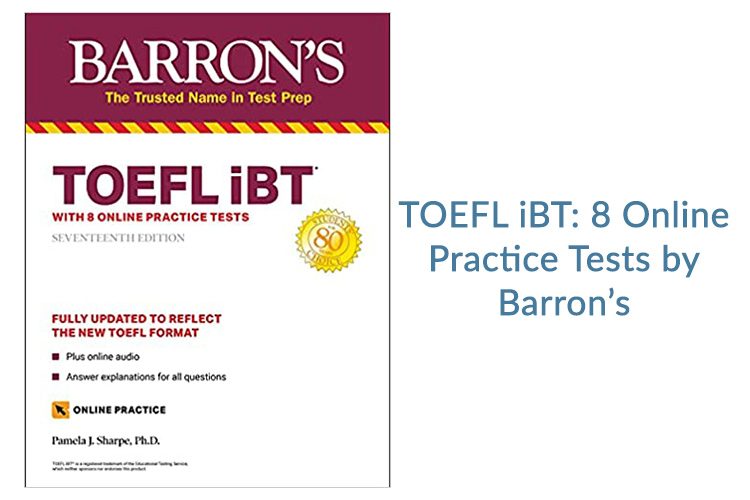 10. TOEFL Pocket Vocabulary by Kaplan
This isn't exactly a TOEFL prep book, but a pocket vocabulary book, so you can carry it with you anywhere. It will introduce you to 600 important words you'll be encountering in TOEFL.
Its key features include:
Practice Exercises
420 idioms & Practice Questions
Definitions, Parts of speech, & Sample Sentences
500+ words and 400+ idioms provided in a Page Design Similar to Flashcards.
Moreover, if you are looking for some specific books, please take a look below to find books that match your specific needs.
Books for TOEFL Overview:
Official Guide to the TOEFL (6th Edition) & Barron's TOEFL iBT (17th edition)
Books for Practicing:
Volume I & II of Official TOEFL official iBT Tests Collection
Books for Reading:
Kathy Spratt's "Mastering the Reading Section for the TOEFL iBT"
Books for Listening, Speaking, and Writing Skills
Magoosh TOEFL has good material on the listening section, as well as Collins' TOEFL Listening and Speaking Skills and TOEFL Reading and Writing Skills. These books are old, but will do the job.
Books for TOEFL Vocabulary
Get the essential words for the TOEFL from Barron's & McGraw-Hill's 400 Words for the TOEFL.
Books for TOEFL Grammar
The 5th edition of "English Grammar in Use by Cambridge University Press" is your best friend.
In case you are wondering which is easier, TOEFL or SAT English?
TOEFL is known to be comparatively easier, when compared to other standardized tests, like SAT, ACT, and GRE, as the main focus of TOEFL is to check your language skill, rather than evaluating your knowledge of mathematics, general knowledge, or writing nuances.
Is it easy to get 105 in TOEFL?
105 is a very competitive score. It indicates that you are an excellent candidate. If you manage to score 26 or 27 in each section, you'll fall into the high range.
Which Mode of Learning is Best suited for You?
If you are thinking about preparing for TOEFL, you'll be wondering what is the best way to go about it. Books and guides are the most commonly used methods. However, in today's world, we know that media aids are proven and effective learning tools.
Let's compare them both:
| | |
| --- | --- |
| TOEFL BOOKS | TOEFL ONLINE PREPARATION |
| Older, irrelevant book editions. | Convenient and easier access from anywhere. |
| Conventional, cheaper, and independent. | Most relevant and updated resources. |
| Dull and non-engaging learning method. | Fun and engaging learning. |
| You need to self-evaluate yourself | Quick feedback and online progress report. |
Conclusion:
Trust our expertise and have your pick from our list to cover your specific needs. As you can't go wrong with any single of our carefully selected list of top-ranking TOEFL books.
However, if you need additional help to streamline your preparation, and are looking for an affordable online preparation source, get in touch with our exceptional English tutors now, and strengthen your language skills.
My Tutor Source provides you an amazing e-learning opportunity, designed exclusively to facilitate you with language exams preparation.