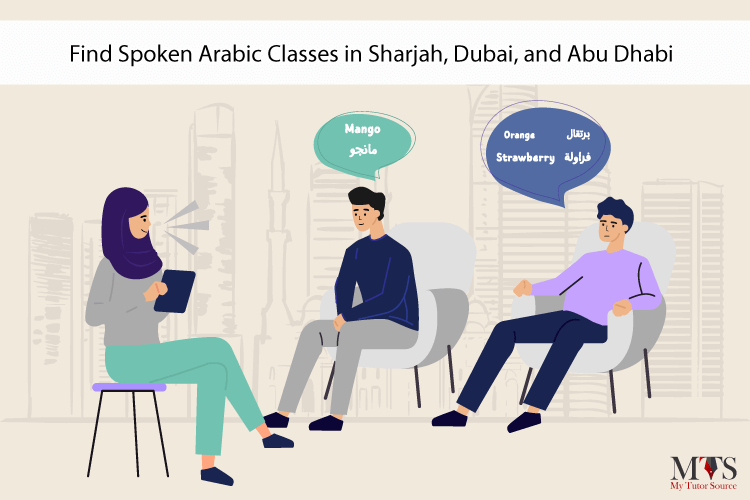 Arabic is not just one of the oldest languages in the world, it is also a dialect full of tradition and history of the Middle East. Although English is most commonly used in the UAE, the official language of the country is Arabic. Even though English is used the most, it is still beneficial for non-natives to learn Emirati Arabic. There are many institutes in different parts of the UAE that offer Arabic lessons for beginners. We have rounded up some of the best spoken Arabic classes in Sharjah, Dubai, and Abu Dhabi so you can easily learn Emirati Arabic:
Spoken Arabic Classes in Sharjah
1. The Arabic Language Academy
The Arabic Language Academy offers free Arabic tuition in Sharjah. Established in 2018, it offers Arabic lessons to people coming from all over the world. Its Arabic lessons are structured according to different levels of competence. The course for beginners consists of a brief introduction to the Arabic language and covers the basics. The beginner level is succeeded by the intermediate and advanced levels. You can find a lot more information about Arabic tuition in Sharjah on its official website.
2. Spoken Arabic (Informatics Institute)
Offered by the Informatics Institute, the Spoken Arabic provides the students a certificate upon course completion. Its spoken Arabic classes are extremely helpful for beginners who are just learning to speak, read, and write the Arabic language. It also covers the fluency as well as builds confidence in students so they can speak in Arabic in public etc. The duration of the classes is thirty minutes, costs 600 AED, and has 9 enrollments.
3. Spoken Arabic (Sahara Education)
Sahara Education also offers online Arabic classes focused primarily on spoken Arabic. The lessons are presented by highly qualified tutors with years of experience. The course costs 600 AED and the duration is 20 hours. Students can also choose a demo class to enjoy the experience first-hand.
4. Spoken Arabic for Beginners ( Zabeel International Institute Of Management And Technology)
Although it costs the same as the courses above i.e., 600 AED, Spoken Arabic for Beginners classes offered by the Zabeel International Institute of Management and Technology are different. It stands out from other courses because it doesn't follow the standard approach and focuses on a wide array of areas of the Arabic language. With a duration of 12 hours, it covers daily life events, work, and social life. The total number of enrollments is 19.
5. Arabic Language: Spoken Basic & Intermediate (Mnr Talent And Skill Development Institute)
The online Arabic classes in this course teach students how to deal with basic situations where they are required to converse in Arabic. The spoken Arabic classes in Sharjah are structured for the newbies so they can learn basic conversational skills. The price for this course is 650 AED for 18 hours of study per level.
6. Arabic Language Course (Minds Training Center)
This course by the MINDS Training Center is internationally accredited, hence the high price. Priced at 1200 AED, this Arabic course covers all areas of the language, including speaking, writing, reading, and listening. It also improves vocabulary and conversation skills while offering the students a friendly and interactive learning environment. The course lasts for 2 months and costs 1200 AED.
7. Beginner Level A2: Online (Al Ramsa Institute)
This course by Al Ramsa Institute has eleven videos curated for people who want to learn Emirati Arabic at their own pace. The videos are recorded by Ms. Hanan AlFardan, an Emirati native speaker, who founded the Emirati Dialect and Culture at AlRamsa Institute. Costing only 350 AED, this course has a lifetime duration.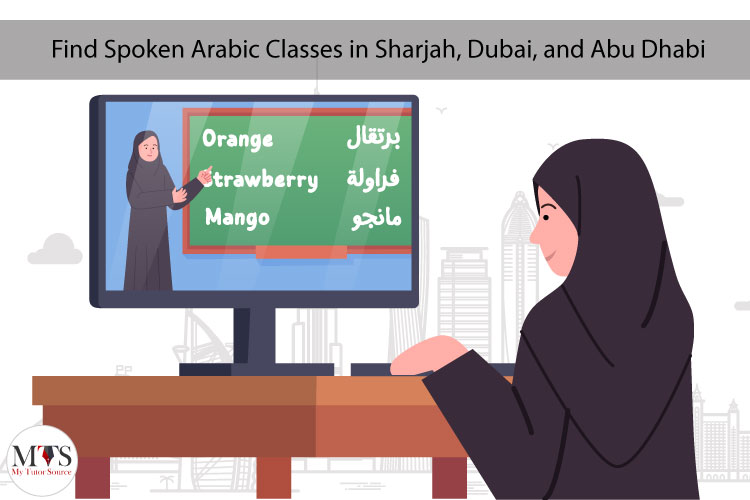 Apps to Learn Arabic
You can also install various apps from the Google Play Store or App Store to learn Arabic online:
1. Drops
Drops is an application that provides a free Arabic language course and various lessons in the UAE. You just need to invest some of your precious time and you can learn Arabic with a few taps. This app covers basic vocabulary, common Arabic phrases, commonly-used words, useful tips, and business-related terminology. You can get access to free lessons for minutes per day. For offline training materials, you will have to pay some money.
2. Memrise
Memrise is another amazing app that offers free Arabic classes in the UAE for people eager to learn the Arabic language. It is not easier to use than other apps, it also offers free lessons for different levels. Memrise is a good choice for you whether you are a newbie just starting out or you are already an intermediate Arabic speaker. Besides, you can use it for free, however, it has some in-app purchases that require you to spend extra money if you want to get offline access.
3. Rosetta Stone
Rosetta Stone has made a name for itself. Almost everyone is familiar with this app. It is one of the most-used applications by people who want to learn Arabic in the UAE. Plus, it is free!
You can start with lessons that are 10-minutes and then you can work your way up to the advanced courses. The different lessons offered in Arabic cover various aspects of the Arabic language, including listening, speaking, and reading Arabic text. Rosetta Stone's working mechanism is different from other applications. You start learning with full words and sounds instead of building your alphabet knowledge during the early lessons. You get access to 30 minutes of daily content without paying. However, just like other apps, it requires you to pay if you want full access.
Free Arabic Courses in Dubai
Like we have mentioned above, Arabic is the official language of the UAE. Dubai, however, is a cosmopolitan city, so you do not really need to be fluent in the Arabic language if you want to survive in Dubai. However, it will be beneficial for you to know some basic Arabic to help you easily settle into the Dubai lifestyle. Here's a list of resources where you can get access to the Arabic course Dubai:
The Arabic Language Centre
The Arabic Language Centre, also known as ALC, is one of Dubai's prestigious language institutions situated in the Dubai World Trade Centre. ALC provides a diverse array of Arabic courses that include courses for people who want to learn Arabic in Dubai free. Non-Arabic speakers can also take a free trial. The best part is that you can access the free Arabic language sessions at the Arabic Language Centre both online and offline. Moreover, there are different classes for adults and children of different levels. You can find more information about the courses offered at ALC and free classes on ALC's official website.
Free Arabic Classes in Abu Dhabi
The Language Club or TLC
The Language Club, more commonly known as TLC, offers Arabic classes in Abu Dhabi. So, if you are living in Abu Dhabi and want to learn the Arabic language. TLC was established by Marisol Vasquez and it is, to date, one of the most popular and prestigious community centres in Abu Dhabi that offers free Arabic courses for eager learners. Besides Arabic, you can learn a lot of other languages, including Spanish, German, French, Italian, Russian, English, and Portuguese. If you want to enroll in a free Arabic language course at The Language Club, all you need to do is visit TLC's official website.
Summing It Up
Arabic is a beautiful language. Learning Arabic is not just going to benefit you while you are in Dubai whether for work purposes or on a recreational trip, it will also help you in situations where you are required to speak or read or listen to Arabic. These resources are some of the best ones for people looking for spoken Arabic classes in Sharjah, Dubai, and Abu Dhabi. Start your learning journey today and you will be fluently speaking, reading, and writing in Arabic before you even know it.
Bil tawfiq! (Good luck)