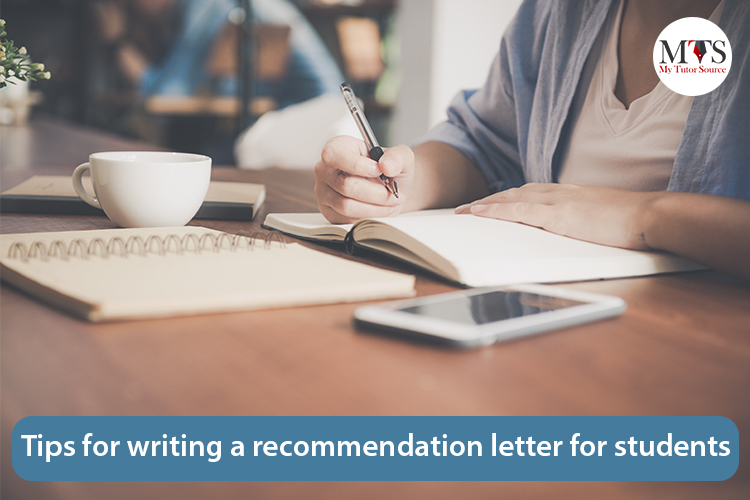 Recommendation letters are primarily written by teachers for their students when they are applying for a higher position. Some schools, colleges, universities, volunteer organizations, or any business position demands proof of the applicant's hard work, academic or personal lifestyle, good character, efficiency, or reliability from their teachers, coaches, and supervisors.Mostly the private sectors ask for these types of letters. Teachers only write these letters for their deserving and reliable students to make their case strong.
This letter is of a specific length like up to 400 words. It contains detailed information about the students like their character and personality, past academic grades and achievements, contact details, work ethics, hobbies and activities, background, and why the teacher recommends them to the respective place.
It works as a resume of students that education sectors go through to know the possible details about the applicant. Most universities ask for a recommendation letter before giving a scholarship or seat in their bachelor's or master's degree program because it may help them make the right decision.
Many colleges require one or more teacher letters of recommendation. Admissions counsellors may have to review hundreds or even thousands of student applications. Your letters of recommendation help to bring a face to the name. Beyond the black and white numbers of your grades and test scores, your teachers may have illuminating details about your intellectual enthusiasm, teamwork ability, and creativity that help to personalize your application.

How? Your teachers spend multiple hours a week with you. They review your homework, edit your essays, and grade your tests. Over the course of an entire year, they get a solid look into the type of student you are and what you bring to a classroom.

However…

The importance of letters of recommendation vary for each college and also depend on your high school experience. If you attend a high school with a large student population where an individual relationship with your counsellor is not as likely, colleges understand that your counsellor letter of recommendation may be less personal and instead turn to your teacher recommendations for a better glimpse into who you are. If your grades dipped in a certain class or semester, the teacher writing your letter of recommendation could help explain the reason (perhaps you were sick or had a disruptive life event occur).

Remember that your recommendations are only one piece of the jigsaw puzzle that forms your application. Even with amazing recommendations, it's still crucial to keep in mind other factors like your grades, standardized test scores, essays, extracurricular activities, admissions interviews, etc.

Madeleine Karydes – Empowerly
Pretty sure you have understood the meaning and purpose of a recommendation letter for students by their teacher. Moving ahead, you will learn more about its types, importance, and how to write it with an example.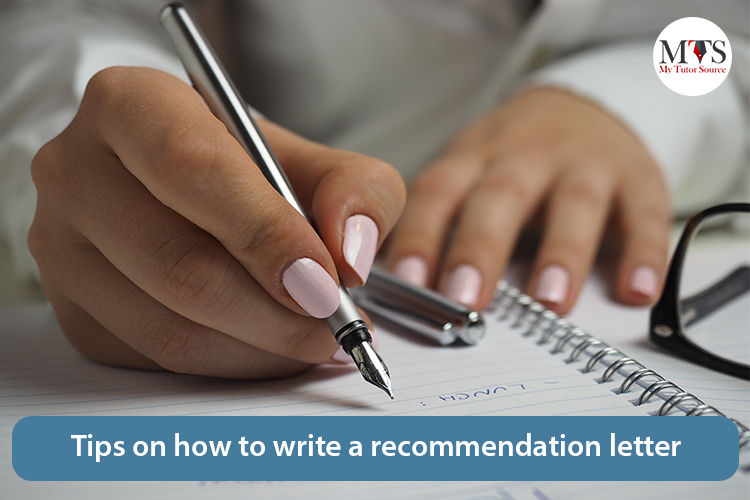 Types of recommendation letters for students
Academic recommendation letters are of many types that a student's teacher, coach, dean, principal, or other professional writes for them. It can be for an academic purpose like new admission or participating in any extracurricular competition or team. Experts mostly have a designed template or sample of it that they use as per need, and types of recommendation letters for students are;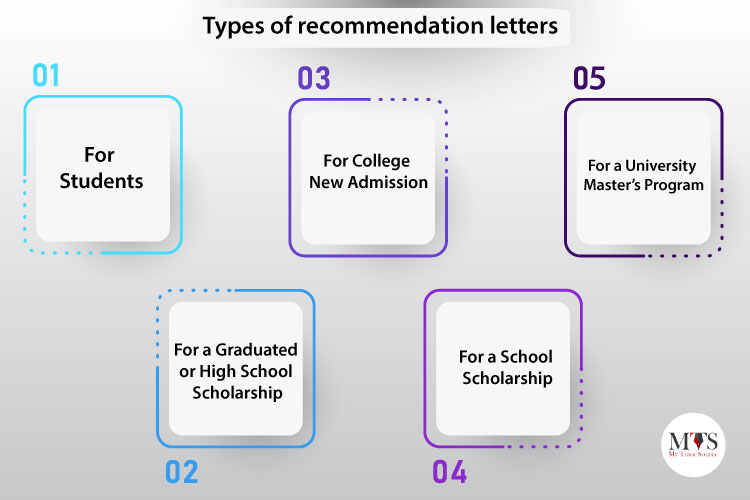 Personal recommendation letter for students
Recommendation letter for college new admission
Recommendation letter for a school scholarship
Recommendation letter for a graduated or high school scholarship
Recommendation letter for a university master's program
Importance of recommendation letters
Recommendation letters work as a personal resume of a person to help the administrative department or the recruiters to gain the complete information of a person like how much potential they have or how competent they are for a particular position. It is a kind of assurance letter about students from an outside person who knows well about a student's personal and intellectual qualities. It plays an essential role in their admission process. Students with a valuable, informative recommendation letter have more chances of admission than those with no or incomplete letters.
The bulk of the college application is "facts and figures," a list of courses, grades, test scores, activities, and awards. It's just a resume, and every applicant has the same things. But there are two things that make a student stand out, the essay and the letter of recommendation.

While the essay can give essential information about the student and how they think, the letter of recommendation tells the admissions what others think of the student.

A great letter of recommendation will have examples of the teen's character and how their character is coming to life in their relationships with teachers and other students.

Denise Thomas CEO of Get Ahead of the Class
Tips on how to write a recommendation letter
Like any other letter, a recommendation letter also has three parts; introduction, body, and conclusion. The introductory paragraph of the body should include the introduction of the student, their teacher, who is writing, and the relationship of these two; ideally, students should choose a teacher they have known for more than six months. Make sure to select a letter writer with excellent academic and personal interaction and speak highly of you. The purpose of the letter is to make a lasting impression on the new institution. Along with the introduction, the body of the letter must have the information of the student's applied position, the reason behind the teacher's recommendation. And the letter should be written in a direct, formal, and professional way.
In the body of such letters, teachers have to mention the complete details of the students along with examples or authentic history; that speak highly of them. It includes the applicant's academic background, skills, intellectual activities or hobbies, personal or scholarly strength, work history if they have any, and career plans that demand the degree they are applying for. In short, the body of the letter should give a holistic view of students' strengths and skills and emphasize the qualities that deserve their recommendation.
In the end, the writer; teacher should wrap up the whole letter by giving his clear final thoughts like how they are confident that their recommended student will make a difference along with their contact details, such as their phone number or email address. In case the administrator department wants to contact them for any query or further information.
Overall the language of the letter should be formal, filled with positive remarks. Students should choose a teacher who has had prior experience writing a recommendation letter. Moreover, the student should provide a draft to their teacher with the letter's submission date, details, desired institute, program name, scholarship type, name and bio of the application reviewer, a complete history of their qualification, skills, academic and other achievements. Providing all these sets of information will ease the work of teachers, and it also shows your respect for them.
Academic recommendation letter sample
Recommendation letter templates or formats are of many types and styles. All teachers have their way of writing and recommending someone to others. Some institutions have their template that they give their applicants to follow below the two academic recommendation letters sample. The first one is for a student who wants to join politics in the future and has extensive knowledge of history, culture, and politics. And the second example of the letter recommends Salena, a self-learner and wants to pursue her career as a software engineer.
Sample # 1
Sender's name
Sender's address
Sender's contact number
Sender's email address
(Date)
Recipient's name
School's name
School's Address
Dear Mr. / Mrs. _________
I have had the great pleasure of teaching history to John in his 10th and 11th grades. And I am pleased to recommend him as a candidate of (school's name) for Bachelors in Political Sciences and Social Studies. Besides the academics, I have known him for the past 5 years, he lives nearby me, and I helped him improve his written and communication skills. John is a very talented literary critic with extensive knowledge of political and cultural history.
He impressed all the teachers from day one of school with his excellent communication skills, reading and writing practices, ability to understand complex concepts in a short period, and he has my highest recommendation as a History student and a future leader. When asked about the student's career plan after results, Joke spoke about his future career plans with so much clarity and enthusiasm that speaks of his high self-confidence and determination to make a name in this world. Besides getting excellent grades in academics, John actively participates in all the intellectual activities of a school like debate competitions, volunteer work, writing contests. Moreover, he actively writes articles on historical, political, and cultural content in our school literary magazine and this poetry. John has won many speech competitions held inside or outside the school with his written speeches that state the facts of the topic clearly and eloquently. John was always supportive of his schoolfellows throughout the school journey and proved himself a great friend to all.
I am, thus convinced that John will prove himself as an outstanding contribution to your institution's literary magazines, other social activities, and competition. He will be a valuable asset to your esteemed Political Sciences and Social Studies department, and
I highly recommend him. And I am confident that he will make his name in the country's politics and mark history. I have mentioned my contact details if you have any queries regarding John's personal or academic platform. Please do not hesitate to contact me.
Thank you for your kind consideration.
Sincerely,
Teacher's name
Teacher's subject name
School's name
Contact details
Teacher's signature and official stamp (if any)
Students often underestimate the importance of recommendation letters in the application process – at their own peril. While the personal essay represents the student's version of their story, corroboration via teacher/mentor letters demonstrates the roots of that story run deep. Build relationships with teachers who inspire you over the years and ask them early to get the most thoughtful reference.

Alex Chip CEO and Founder of Top Score Education
Sample # 2
Dear Admissions Committee,
I (teacher's name) writing with much pleasure and enthusiasm on behalf of Salena for admission to your software engineering department. She studied in our institution from the primary stage, and I have known her for the last 3 years. I am honored to say that she was a part of my computer class, and I advised her in computer labs projects. She has a keen interest in computer and software studies, and this passion of hers made her choose the engineering program. Salena is one of the brightest students I have ever taught in my entire teaching career to get straight to the point.
Salena was always appreciated for her outstanding academic performance, achievements, hard work, and dedication. She was always willing to learn new things and add something innovative in her final projects combined with her existing knowledge and recent changes in the tech world. Her projects always impressed the teaching staff, and she was always confident to share her new skill or expertise with fellow peers. Salena is a curious student, always eager to learn something new, as her parents told me; she often takes programming languages and other coding courses during vacation and excels in them too. You can review her resume attached with the letter to know her course details, projects, and further achievements. Her thirst for knowledge, proactivity in class, and contribution during group work are the qualities that all her fellows liked and loved to collaborate with her.
Salena is an intelligent student with a promising future with multiple qualities and an excellent academic score. I am confident to recommend her to your esteemed institution's engineering department because of her ability to acquire new knowledge, skills and improve herself through self-practice and consistency. Please feel free to contact me at (teacher's email address) for any further questions.
Accept my sincere greetings.
Teacher's name
Teacher's subject name
School name
Ending on a high note
Avoid writing too long or too short recommendation letters for students because your intervention or incomplete points could lose value. It will not fulfill the admission requirement, and the student can miss their chance. Also, ask the respective institute what they prefer, and handwritten letters or typed ones. If you are a student, reading this make sure to appreciate the teacher that writes a recommendation letter for you because this letter is all about you and it's to make your career, but it demands the efforts of your teacher.
Don't forget to drop off a small token of appreciation to your teacher!